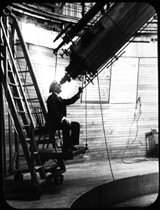 PHOTO: Lowell Observatory
Percival Lowell studies the sky through the 24-inch Clark Telescope
Under a broad white dome on Lowell Observatory's Mars Hill near Flagstaff sits the Alvan Clark Telescope, a piece of astronomical history.
The first large telescope in the Southwestern U.S., the 24" refractor has been scanning the skies almost every night since 1896.
But with such prolonged service comes an extraordinary amount of wear and tear. Some of the telescope's parts need to be replaced. Quickly.
Kevin Schindler, outreach director for Lowell, says the telescope could shut down unless upgrades are made. The electrical system dates back a century and has begun to arc. The gears and bearings that rotate the dome assembly are worn. But the lens, the most important part of a telescope, is still in top shape.
It's not easy to find parts for a 117-year old telescope. So Schindler says Lowell's engineers will fabricate most of them on-site.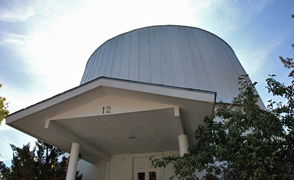 PHOTO: Mark Duggan
The gears and motors that rotate the Clark Telescope's dome will be replaced as part of the restoration
Schindler calls the Clark "the people's telescope," referring to its rich history of public viewing. In that spirit, the observatory is turning to what's called "crowd sourcing" to fund the restoration.
They hope to raise about $250,000 through a crowd funding website by May 12.
The Clark Telescope arrived at Lowell Observatory in 1896. It spent many years as a research device - observatory founder Percival Lowell used it to examine the surface of Mars, and U.S. cartographers made detailed maps of the moon with it.
Since becoming a part of Lowell's public viewing programs almost 20 years ago, observatory officials estimate that more than a million people have looked through its eyepiece.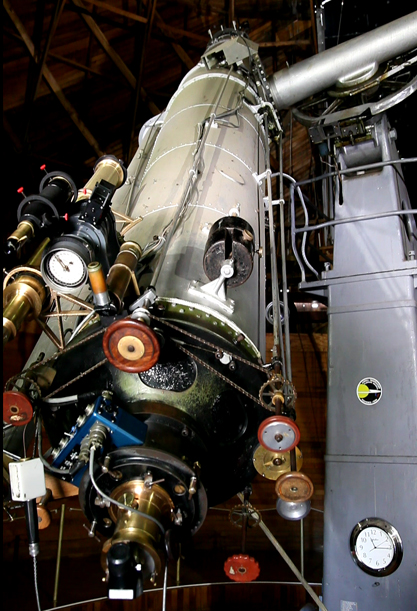 PHOTO: Mark Duggan
The Alvan Clark refracting telescope was installed at Lowell Observatory in 1896. It is still used today for public viewing programs.