U.S. businesses are pushing aside frustration with congressional inaction on the budget deficit and "moving ahead" with expansion, says a bank economist.
Carl R. Tannenbaum, senior vice president and chief economist for Northern Trust Co., which includes Northern Trust Bank, said in an AZ Illustrated Metro interview that the effect of the federal budget cuts known as sequestration have so far had "relatively little" impact on the economy.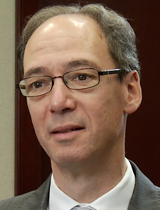 PHOTO: AZPM
Carl R. Tannenbaum, chief economist, Northern Trust Co.
"The bite of the sequestration will really probably only begin presenting itself over the next couple of months or so," said Tannenbaum. The Chicago-based economist was visiting Tucson to meet with local Northern Trust executives and business customers.
"In the meantime, both the financial markets and businesses seem to be working past it," he said of sequestration. "We've had very strong equity markets and surveys of businesspeople are indicating that they're moving ahead without waiting for Congress to reach any kind of resolution."
He said some businesspeople may see the budget cuts for all their "clumsiness" as "a credible way of getting our deficit under control."
This will be the fifth straight year that the federal deficit will be lower than the previous year, and that should be considered progress at getting "government burden out of the business cycle."
While business leaders have been saying that the congressional and administration gridlock are making them uncertain and thus unwilling to invest, the reality of what is going on in the economy is different, Tannenbaum said.
"Consumers and businesses are notorious for saying one thing in response to surveys and then doing another," he said. "In this case, I get the sense that all of us are quite frustrated that the Congress can't figure out some of the long-term challenges that will affect businesses and consumers. ... But in the short term, businesses are seeing opportunities to grow, and so while frustrated with Congress, they aren't waiting for them to reach a resolution."