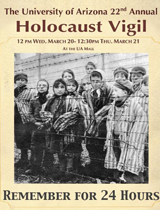 PHOTO: University of Arizona Hillel
A flyer for this year's Holocaust Vigil
The University of Arizona Hillel Foundation's annual Holocaust vigil begins at noon Wednesday on the UA Mall.
The vigil is organized by students. Naomi Schuster, director of Jewish student life at Hillel, says it's an opportunity to memorialize Holocaust victims, recognize the past and warn against history repeating itself.
The vigil, which is open to the public, will have guest speakers and discussions that address the theme of "Silence Helps the Oppressors." There will also be a continuous reading - for the duration of the vigil - of the names of Holocaust victims.
Schuster says this year's event will also feature four displays - including one depicting a scene of a normal Jewish household before the war.
Also at this year's vigil, the Butterfly Project: Zikaron V'Tikvah—Remembrance and Hope, which started in 2006. It's an effort to create 1.5 million handmade, ceramic butterflies, each in memory of a child who died in the Holocaust.
The vigil runs until 12:15 p.m. on Thursday.