The Tucson City Council is likely to require city residents to report lost or stolen guns to police.
The council took a preliminary vote Tuesday approving the proposal. City staff will write an ordinance and the council will take a final vote in 60 days.
The measure would require gun owners to notify police within 48 hours if their firearms are lost or stolen, said Councilman Steve Kozachik, who made the proposal.
"If your gun was stolen, tell TPD," he said, noting the policy is simple.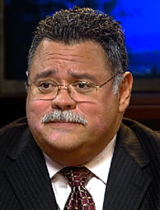 PHOTO: AZPM
Tucson Police Chief Roberto Villaseñor.
Tucson Police Chief Roberto Villaseñor said he supports the proposal, as does the Major Cities Chiefs Association, an association of police chiefs.
"It really helps us to eliminate them obviously as a possible subject and try and go from that point forward as to where the firearm went. So I'm very supportive of this ordinance and I think it will be a tool that will help us in the investigation of violent crime," Villaseñor told the council.
Ken Rineer, president of Gun Owners of Arizona, said after the vote that the policy is unnecessary, because he said guns can be expensive, so an owner would already be inclined to report a missing firearm.
Councilwoman Shirley Scott said she was concerned about the reporting liability, and asked whether people would be penalized if their homes were burglarized and they took more than two days to realize their guns were stolen and make reports.
In response, Kozachik said he believes as long as a person makes a "reasonable" effort to comply, there shouldn't be a problem. Most people, he said, comply with the law.
Other cities have adopted similar ordinances, Villaseñor said. Such a policy would help eliminate a person who no longer has his or her gun as a suspect in a crime.
He said the Police Department would focus on educating Tucson residents if the proposed ordinance passes.