A proposal by Gov. Jan Brewer to expand the state's Medicaid plan under provisions of the federal health care overhaul gets it first legislative hearing Wednesday.
The House Appropriations Committee will hear a report from legislative budget staff on its fiscal impact and then take testimony.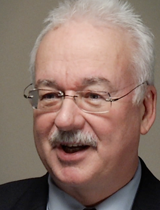 PHOTO: AZPM
Rep. John Kavanagh, R-Fountain Hills
House Speaker Andy Tobin, R-Paulden, who opposes the Medicaid expansion, assigned the bill to the Appropriations Committee rather than the Health Committee. Appropriations Chairman John Kavanagh, R-Fountain Hills, also opposes the plan, while Health Committee Chairwoman Heather Carter, R-Phoenix, favors it.
Kavanagh said besides the budget staff at the hearing, he also planned to hear from the head of the state's Medicaid program, the Goldwater Institute and medical groups. Goldwater opposes the move and medical groups are generally supportive.
Kavanagh said a "tsunami" of speaking requests by expansion proponents forced him to ditch all but the staff presentation and the public comment part.
Expanding the Arizona Health Care Cost Containment System is one of Brewer's top priorities, as allowed for unfer the U.S. Affordable Care Act.
Many of Brewer's fellow Republicans, including leaders of the House and Senate, are opposed.