Audio story by Mark Duggan

Henry "Hank" Oyama, a pioneer Tucson educator who spent part of his teen years in a U.S. internment camp for Japanese Americans, died Wednesday, his family reported. He was 86.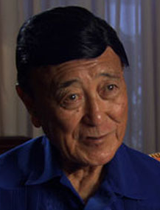 Henry 'Hank' Oyama. (PHOTO: AZPM)
Oyama, who served in a U.S. Army intelligence unit in World War II after leaving the internment camp, was a teacher at Pueblo High School in Tucson and served in Pima Community College's early years as director of bilingual and international studies.
He later became Pima associate dean, according to postonupdates.blogspot.com, and in 1989, Oyama was appointed a vice president at the college. He retired in 1991 and was named vice president emeritus.
Ten years ago, March 8, 2003, Tucson Unified School District named Henry Hank Oyama Elementary School on the city's west side in his honor.
According to the Poston Updates blog site, Oyama was born in Tucson June 1, 1926, five months after his father died. He learned to speak both fluent Spanish and English as a child. When he was 15, in 1942, he, his sister and their mother were taken to Poston Camp near the Arizona-California line and held for 15 months with other Japanese Americans.
He enlisted in the Army two years after his release from the internment camp and served through the end of the war, eventually retiring from the military at the rank of lieutenant colonel in the Air Force Reserve.
A 2009 story in The Arizona Capitol Times described Oyama's pioneering effort to overturn racist laws in Arizona, most especially a law banning interracial marriage.
As a Japanese American, he and his would-be bride, Mary Ann Jordan, a Caucasian, were not allowed to marry under state law. The couple fought the law and won what became a landmark legal decision.
More resources:
Read more about the life of Henry "Hank" Oyama, from the Poston Camp Restoration Project.
Hank Oyama talks to Arizona Spotlight's Mark McLemore about the challenges of fighting Arizona's miscegenation laws fifty years ago, which forbade interracial marriage: