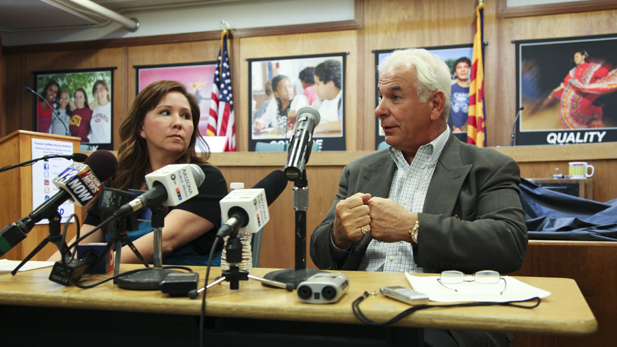 TUSD Board President Adelita Grijalva listens as Superintendent John Pedicone says he hopes the community will work with the district after he resigns June 30. (PHOTO: Hannah Gaber)
John Pedicone said Wednesday he will resign as Tucson Unified School District's superintendent, effective June 30.
Pedicone sent a two-page letter to TUSD faculty and staff, including a long list of what he said were the district's accomplishments under his tenure. He also held a news conference during which he said it is the right time for him to resign.
He will depart one year before his contract expires. He said he wants the new governing board to have the opportunity to hire a new leader now and not during the next election cycle.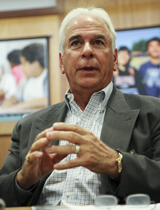 TUSD Superintendent John Pedicone. (PHOTO: Hannah Gaber)
"From the beginning of my service to this district I made it clear that I was not here for the long term. My intention was to move this organization forward on a trajectory toward success and make it possible for the next superintendent to be successful, and I believe that we have done that," he said.
Pedicone said he is not being forced out or leaving because of controversy, although the district is planning to close 11 schools because of a $17 million deficit, and is under a federal desegregation order.
During his tenure as superintendent, the district eliminated Mexican American Studies courses in order to prevent a loss in state funding once the courses were deemed illegal. The move was controversial and drew regular protests at board meetings.
"I think it was terribly difficult for the community as we try to proceed through the Mexican American Studies issues, which everybody knows is really something that predominated the first year and a half or so of our time together," he said.
"This decision did not come easily, but I believe it is in the best interests of the district that I do so," he said in the letter. "The timing is right. It makes sense to allow our newly elected board members to work with a superintendent who will be in place for the duration of their first board terms."
In 2012, Pedicone's contract was extended until 2014, but two of the five members of that school board lost reelection bids in November, causing a shift in the board's philosophies and leading to the election of board veteran Adelita Grijalva as board president.
"I think it's a great loss to the district," said TUSD Board member Michael Hicks, after Pedicone announced his resignation. "I'm really bummed he's decided to leave...though we've had our disagreements."
Newly elected board member Cam Juarez told Arizona Public Media he was surprised by Pedicone's decision to step down now. Juarez also said he fully supports Pedicone's "plea to the community" for more support.
Mark Stegeman is serving his second term on the TUSD governing board. In a letter to constituents, Stegeman said the announcement was a surprise.
"Despite some differences on policy issues I expect the board to work together, to protect assiduously the gains made over the past several years and toward a transition that can continue that forward progress," Stegeman wrote.
Pedicone became superintendent in 2011 after having served as the Flowing Wells School District superintendent for six years. He also worked for the Southern Arizona Leadership Council as a vice president for four years.