Senate Democrats and Republicans will hold a joint meeting next month to mark the 40th anniversary of Sen. John McCain's release from a North Vietnamese prison.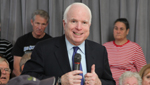 Congressional aides told The Associated Press Thursday that the special lunch will be April 11 after Congress returns from a two-week break. The aides spoke on condition of anonymity because they were not allowed to discuss the event publicly.
As a Navy pilot, McCain spent 5½ years in a Hanoi prison after his plane was shot down during the Vietnam War. He was released on March 14, 1973.
Last week, on the anniversary, President Barack Obama met privately with Senate Republicans and expressed gratitude for McCain's military service.