At a about minute after noon Wednesday, a woman stepped up to a microphone on a small stage on the University of Arizona Mall.
She opened a book, looked down at it and hesitated. Looked back up at the small crowd gathered before her.
Then she drew a breath and began.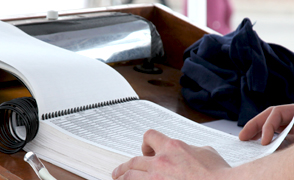 The names of Holocaust victims are read from several large books. They come from the Simon Wiesenthal Center, the U.S. Holocaust Museum and Yad Vashem, Israel's memorial to victims. (PHOTO: Mark Duggan)
The names came haltingly in the beginning. A first name. A last. Sometimes an age and home country. Then another name. And another.
"Sarah Weisz. Age 11. Auschwitz She was in Auschwitz."
She glanced down at the book again. There are more names to read. Many more. Six million more - the number of victims of the Holocaust.
But for 24 hours, she and about 90 other people read more than 8,600 names. Each said aloud; honoring the victims by simply naming them and giving voice to their memory.
"David Weisz … age 7. From Czechoslovakia."
A few people in the audience had begun to cry softly. Most of the victims whose names were being read were children.
Eleven years old. Three years old. Five years old.
The naming of the dead is part of the annual 24-hour Holocaust Vigil, coordinated by the UA Hillel Foundation for Jewish student life.
People from all walks and faiths drop by the vigil to participate. Some to listen to the names being read and some to read the names. Some come to listen to the stories and wisdom of Holocaust survivors.
Some come just to remember.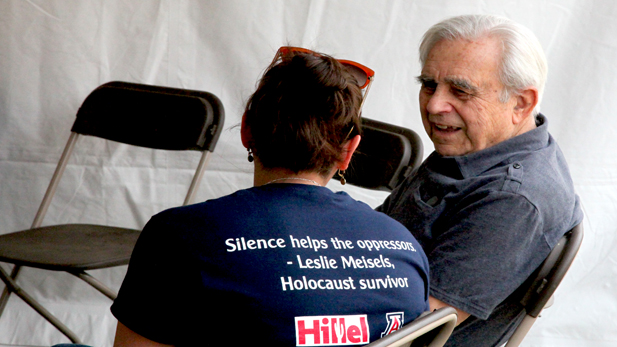 Holocaust survivor Bill Kugelman talks with Hillel's Naomi Schuster at the 2013 Holocaust Vigil (PHOTO: Mark Duggan)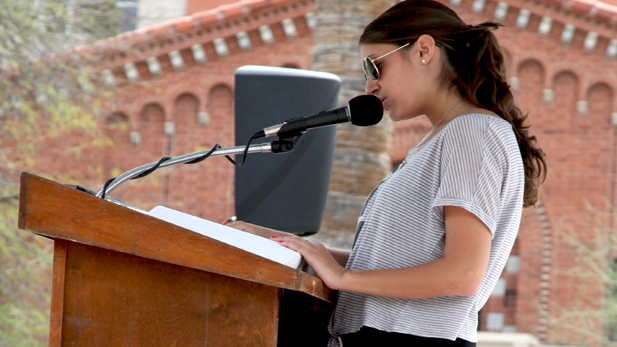 More than 90 college students, community members and others take 15 minute shifts to continuously read aloud the names of Holocaust victims for the 24-hour vigil (PHOTO: Mark Duggan)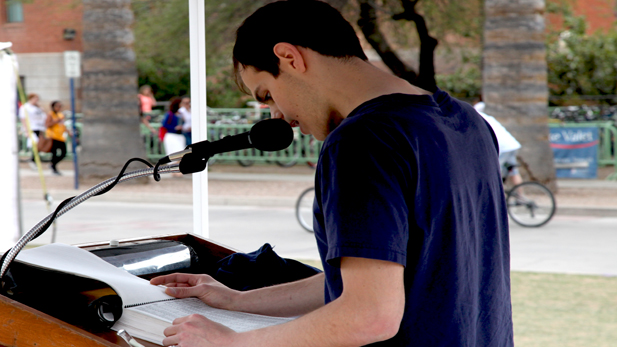 A student reads names in the final seconds of the vigil. Hillel Foundation Executive Director Michelle Blumenberg says about 8,640 names of Holocaust victims are read aloud over 24 hours (PHOTO: Mark Duggan)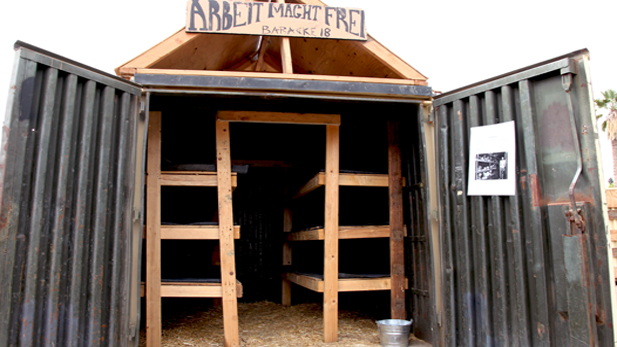 The Holocaust Vigil features several displays, including one of a typical concentration camp bunk area. The inscription above the door is a German phrase "Arbeit macht frei," meaning "labour makes you free," a slogan that was placed over the entrances to many Nazi concentration camps during World War II (PHOTO: Mark Duggan)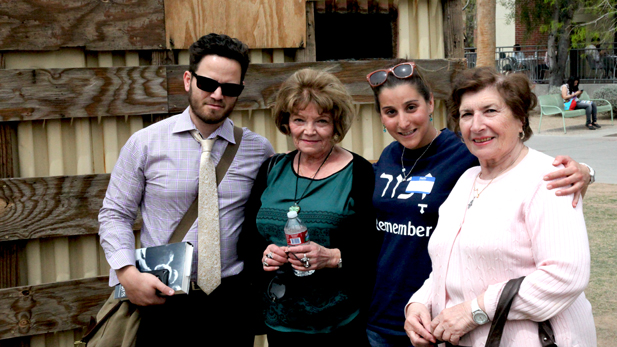 The vigil is an opportunity for multiple generations to share their experiences and honor Holocaust victims (PHOTO: Mark Duggan)