Tucsonan Richard Carmona, the former surgeon general who stressed the dangers of secondhand smoke and supported banning tobacco products, is joining the board of directors for the nation's leading electronic cigarette company.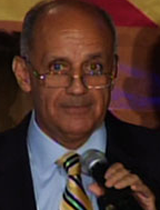 PHOTO: AZPM
Richard Carmona.
Arizona-based NJOY Inc. says Carmona will advise it on public health and regulatory issues, and spearhead its research into electronic cigarettes.
The battery-powered devices heat a liquid nicotine solution and create vapor that users inhale. The company's NJOY KING is the nation's best-selling e-cigarette.
Carmona was the country's senior public health official under President George W. Bush from 2002 to 2006.
The 63-year-old is president of the health and wellness nonprofit Canyon Ranch Institute and a public health professor at the University of Arizona.
Carmona ran for U.S. Senate last year as a Democrat, losing to Republican Jeff Flake. He considered a run for governor in 2014 but said recently that he would not be a candidate.