The Jan. 8 memorial, whatever it turns out to look like and wherever it is placed, will reflect the community, planners say.
About a year after the Jan. 8, 2011 shooting in Tucson, people formed a foundation to take over memorial planning efforts. Six people died and 13 were wounded in the shooting at a constituent meeting event by then U.S. Rep. Gabrielle Giffords outside a Safeway supermarket on Tucson's northwest side.
Included in the planning process are victims, their families and members of community organizations. They unveiled a loose memorial concept Monday and in the coming months will start a public feedback process to shape and change the concept until it's right for Tucson.
The foundation learned from other memorial planning organizations, said Stephen Brigham, president of the January 8th Memorial Foundation.
Tucsonans spoke with people in Oklahoma City; Littleton, Colo.; and New York City to learn how they planned memorials for the Oklahoma federal building bombing, the Columbine shooting and the 9/11 terrorist attack.
"No. 1 is to take your time," Brigham said.
Some sites rushed what they did, Brigham said, while others listened to the community and are a model for Tucson.
"I don't know where it's going to lead," said Ross Zimmerman, foundation vice president. Zimmerman's son, Gabriel, was among those killed Jan. 8. Gabriel was an aide to Giffords.
It is that reason the plans are not firm until there has been a lot of public input.
"One of the things that's important to us is that we want to be what Tucson wants us to be," Brigham said.
The January 8th Memorial Foundation is also considering where a permanent memorial will go, Brigham said.
It could be downtown, to honor the idea that the shooting took place during a democratic exercise at which constituents went to meet an elected representative.
It could incorporate the county's Loop, a network of trails connecting area river parks, at which there are already memorials for individual victims.
It could also be at the Safeway where the shooting occurred. The corporation has installed some boulders with a placard marking the site and the victims.
One concern is that the foundation wants to display some of the thousands of mementos, notes and items people left at impromptu memorial sites after the shooting, Brigham said. That could require a site with enough space for displays.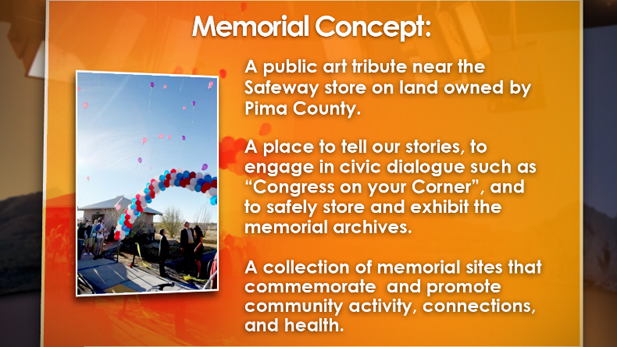 PHOTO: Robert Jaime
A description of what the January 8th Memorial Foundation wants to consider as it makes plans for a permanent memorial to honor the victims of the shooting.