Almost 5 percent of high school students in Pima County drop out, and the number of high school dropouts is much higher for Latino students of low-income families, according to the Arizona State Department of Education.
Sunnyside Unified School District in Tucson has found ways to keep youth in school through outreach programs, laptop incentives and overall understanding what the district's teenagers need.
Six years ago, 505 students graduated from the district's two high schools, 821 graduated in 2010, and 887 graduated in 2012, according to district data.
Rapid enrollment growth accompanied the increase, with 3,816 high school students in 2007, district data show. In 2010, high school enrollment was 4,350, and in 2012, it was 4,700.
Thus, the graduation rate, adjusted for enrollment increases, rose 43.2 percent from 2007 to 2010 and has leveled off at that rate for the last two years.
"In many ways when you take our demographics of 90 percent low income and 90 percent Hispanic, it mirrors other urban school districts in the nation with segregated schools and low funding," said Manuel Isquierdo, Sunnyside's superintendent. "But we're graduating kids at an exceptional rate."
Isquierdo attributes the decrease of dropouts in Tucson's South Side district to a shift in expectations for minority students.
"We have been told for so long that poverty is an excuse and a barrier that we're not going to be able to graduate everybody," Isquierdo said. "It has taken some time - this didn't happen overnight - but it's about changing the culture saying to these students that failure is not an option."
Many teenagers have a tough time outside the classroom and end up dropping out, said Georgina Valencia, a senior at Sunnyside High School.
Some are teenage parents or have to work two jobs to help their families, while others are dealing with physical, sexual and emotional abuse.
"It's hard. Different students have different realities," Valencia said. "I think it's also the eagerness to grow up already."
For Benny Gutierrez, staying in school has not always been easy, he said. Gutierrez works part-time after school and participates in sports. He lives at his grandmother's house with his mom and two younger brothers. Seeing his family struggle to pay the bills has pushed him to stay in school, he said.
"I've seen my mom work 24 hours and I feel like my only way to pay her back is to do what she wants me to do and finish high school and go to college," he said.
Gutierrez will be the first in his family to go to college, he said. He plans to attend the University of Arizona in the fall.
The district's programs aim to bring back students who are on the fence about dropping out, Isquierdo said. And for those who left high school early, a new online program called GradLink gives them a chance to finish through online classes.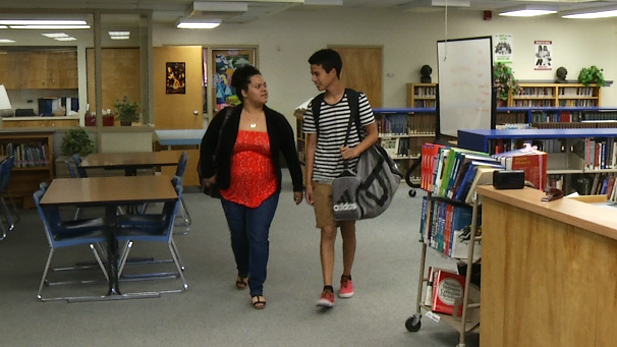 PHOTO: AZPM
Georgina Valencia and Benny Gutierrez, seniors at Sunnyside High School