By Mariana Dale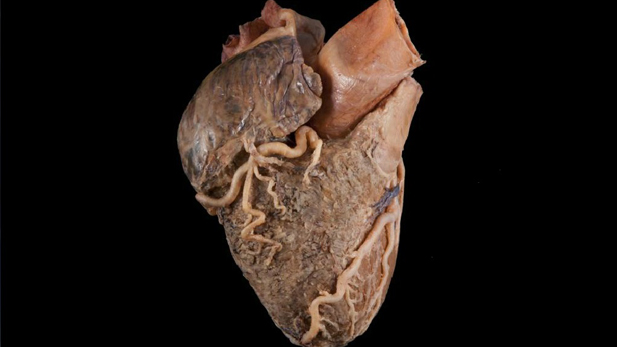 PHOTO: Courtesy of the University of Arizona
An image of the human heart displayed in the Heart Anatomy Explorer I application.
Spidery veins stretch across the mottled brown surface of the detached human heart. Inside is the hollow right atrium where veins pump in deoxygenated blood.
Traditionally, students could only inspect these details in labs with human organs.
Now they can study the heart at home or in the classroom on their iPads with an application developed by University of Arizona faculty.
"They can see the human heart as it sits in the human body," said Mark Nelson, a professor of pathology in the College of Medicine. "Then they can go to another part where we have dissected out the human heart."
Nelson collaborated with Maria Helen Czuzak from the department of cellular and molecular medicine to create the application. Nelson and Czuzak then put together a team of faculty from several departments to create the images and programming.
The result was a three-dimensional heart that can be examined from the outside and inside.
Blue pins scattered throughout the human heart app identify specific parts.
"The advantage of that is, for example, for medical students prior to going into their anatomy class they can already get a sense of what structures they are supposed to be looking for when they get in there," Nelson said.
In recent years, funding for public higher education in Arizona has significantly decreased, and Nelson said the app is a good alternative to expensive labs.
"We wanted to develop a cost-effective way to actually be able to show a diseased organ to our students," he said.
One class of medical students is testing a pilot version of the application. Nelson said the goal is to expand the application to include more organs.
"The student response so far has been pretty positive," Nelson said. "We're waiting to get some further feedback to further improve that before general release. "
Mariana Dale is a University of Arizona intern at Arizona Public Media.