Wildland firefighters go through hours of classroom instruction and simulated drills to learn how to do their jobs.
So do the people who supervise them.
Each year, a select group of highly experienced firefighters gather in Tucson to act out simulated wildfire situations and hone their skills in managing them.
This year, 48 students took the week-long S-520 Advanced Incident Management Course at the National Advanced Fire and Resource Institute.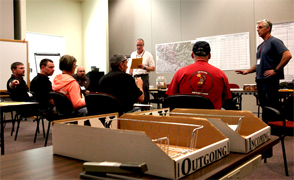 PHOTO: Mark Duggan
A simulated wildfire is managed from "mission central," in this case a classroom
About 80 percent of the coursework is in a classroom. But the training culminates in a simulated wildfire exercise.
Students are given the logistics of a large wildland fire, with characteristics often borrowed from actual past fires. Armed with maps, weather reports and theoretical "teams" of firefighters, they learn to manage the fire.
And that's not an easy job. A typical incident manager may do everything from directing ground and aerial firefighting, to ordering evacuations, to giving regular media briefings.
It's something these students are ready for.
Charles "Boo" Walker is with the Texas A&M Forest Service and is a co-chairman for the Advanced Type One Incident Management Training.
Walker says students attend the Type One Advanced Incident Management course only after they've shown an aptitude for managing smaller situations. And such qualified students come to Tucson from agencies around the country.
"These are the best of the best," Walker said.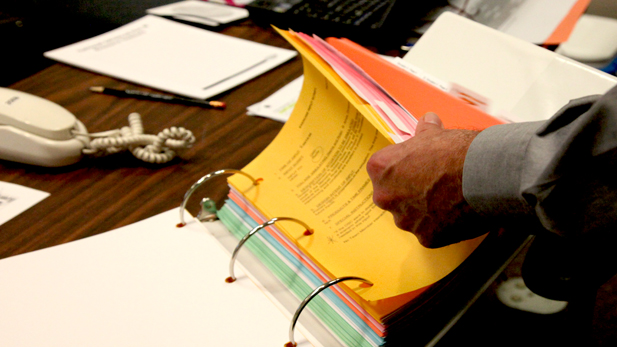 PHOTO: Mark Duggan
Instructors have a large body of wildfire knowledge to call on in the class