Members of the U.S. Senate "Gang of Eight" are moving their negotiations on immigration reform to the Arizona-Mexico border.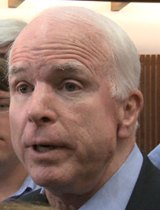 U.S. Sen. John McCain, R-Ariz. (PHOTO: AZPM)
Republican Sens. John McCain and Jeff Flake of Arizona are expected to tour the border Wednesday with Democratic Sens. Chuck Schumer of New York and Michael Bennet of Colorado.
McCain says touring the border is crucial to understanding security issues.
The trip comes as Congress is in recess and as the lawmakers put the finishing touches on a bill designed to secure the border and put 11 million illegal immigrants on a path to citizenship.
Immigration proponents say the group needs to introduce legislation soon, while some Republican lawmakers complain the process has moved too quickly.
McCain told attendees at a town hall in Phoenix on Monday that the negotiations were bogged down in details, which he declined to spell out, and he warned that immigration reform proponents could be disappointed in the outcome.
President Barack Obama has urged Congress to pass immigration reform this year, using the momentum from his reelection victory, which included a vast majority of the Latino vote.
Arizona Gov. Jan Brewer has resisted the push for reform, saying she wants the border secure first.