University of Arizona researchers say most Mexicans deported from the United States have deep ties north of the border.
From 2010 to 2012, "In the Shadow of the Wall: Family Separation, Immigration Enforcement and Security," looked at the demographics of Mexican deportees, their experiences crossing the border, and their detention process.
Key findings focus on family reunification, said Jeremy Slack, a doctoral student at the UA School of Geography and Development.
Deportees interviewed had spend an average of seven years living and working in the U.S., many have children who are U.S. citizens, and the majority consider this country their home, he said.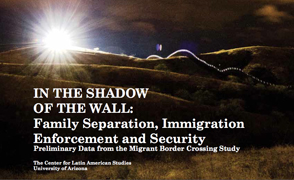 Cover of the UA report
The research study, Slack said, requires attention from Washington.
"Priority one is increase the number of family visas and decrease the wait times," he said. "Number two has to be take a really hard critical examination of these enforcement programs. They're extremely expensive, they're ineffective, so we would really recommend ending those types of programs and reconceiving what it is to secure the border."
Of those interviewed, 14 percent were deportees in Nogales, Sonora. Others were surveyed in Tijuana, Ciudad Juarez, Mexicali, and Nuevo Laredo. A small group was interviewed in Mexico City after being flown there for deportation, according to the report.
The report addressed violence, kidnappings and rape experienced by both men and women who cross the border illegally.
Other topics explored in the report include, labor exploitation, guest worker programs, due process abuse in U.S. custody, Operation Streamline, and other court proceedings.
About 60 researchers from both Mexico and the U.S. asked 250 questions face-to-face with each immigrant.
The report said the current detention and deportation system is not enough to deter immigrants for coming back into the U.S. illegally.
Read full report here

In The Shadow Of The Wall : View at Google Docs | Download File