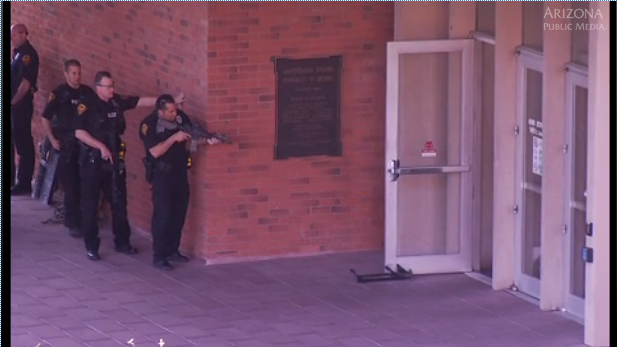 PHOTO: Martín Rubio, AZPM
The University of Arizona suspected the reports of a gunman on campus last Friday were a hoax, but took the threat seriously, officials say in a letter to the campus community.
It also says the university will update its emergency communication plan.
Listen to the story:
That information was released in a letter to the campus community Thursday evening. It evaluated the university's response to reports March 22 of a gunman in the Administration Building in the center of campus.
"While our focus during the incident was, appropriately, on evacuating a potentially dangerous building, we could have better communicated how people should exit campus once out of the building," wrote Melissa Vito, the UA's vice president of student affairs and chair of the Campus Emergency Response Team.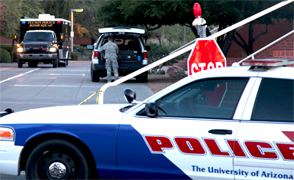 PHOTO: Christopher Conover, AZPM
Specifically regarding evacuation information, the university should have let people know whether they could access their cars in the Second Street Garage, adjacent to the Administration Building, Vito wrote.
The UA Police Department received a 911 call at 4:52 p.m. that a man with a gun was in the Administration Building. A subsequent report said someone had been shot.
In the letter, Vito urged everyone in the campus community to sign up for the electronic alert system, called UAlert, to receive emails and text messages about emergencies. That system, however, needs to be upgraded so emails are timely, Vito wrote in the letter.
The first alert came at 5:06 p.m., and read" "Report of a man w/ a rifle in the Administration Bldg. UAPD on scene. Stay away from the area."
The letter also revealed more details about the calls that prompted the evacuation and subsequent search of the Administration Building.
Both reports came from "an unknown person using an electronic device to convey the information in text format to a third-party operator," Vito wrote in the letter to campus.
Police attempts to reach the person for more information were unsuccessful because the person was unresponsive, Vito wrote.
UAPD and the Tucson Police Department took the threat seriously, Vito wrote, but because of the difficulty getting more information from the person who reported it, "early on, officers at the scene suspected the report was a likely hoax."
In analyzing the response to the reports of a gunman, Vito said in the letter university officials should have sent an "all clear" message earlier in the evening than 9:08 p.m.
The incident ended after police found no evidence of a gunman or a shooting, more than four hours after the floor-by-floor, room-by-room search of the 7-story building.
"No shots were heard and no unusual activity was seen," said UA Police Officer Joe Bermudez on March 22. "During the search of the building, no one was found, nor were there signs that a shooting had taken place in the building."