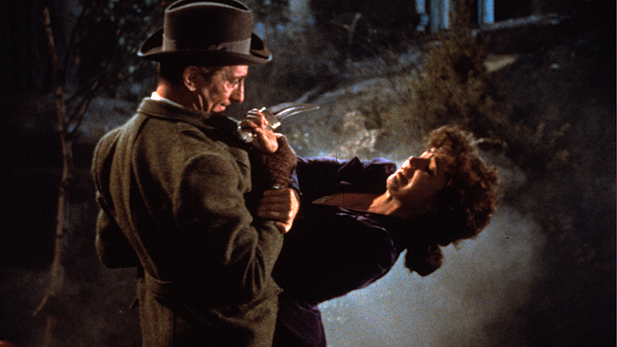 (PHOTO: MGM)
Sherlock Holmes is called to investigate the death of Sir Charles Baskerville, found dead at a nearby abbey. Dr. Mortimer is certain Sir Charles was frightened to death. Mortimer tells Holmes about the curse of the Baskerville family, which began in the 18th Century when Sir Hugo Baskerville murdered a young woman in the same abbey where Sir Charles was found. According to legend, immediately after the murder, Sir Charles was attacked and killed by a mysterious dog.
When Sir Charles' nephew Sir Henry, the only heir to the estate, visits Baskerville hall, strange things begin to happen. He is awakened by the cries of a woman who is nowhere to be found, and a light appears across the moor where the distant howling of a dog can be heard.
The English moors provide an eerie background as Holmes sets out to debunk the curse, and solve the mysterious deaths in the Baskerville family. Before the mystery is solved, he must navigate twists that include an escaped convict, a mysterious woman, a missing portrait, an abandoned mine, secret passageways, and a massive dog creature.
Hollywood at Home](https://tv.azpm.org/hollywood/), Saturday at 9 p.m. on PBS 6.