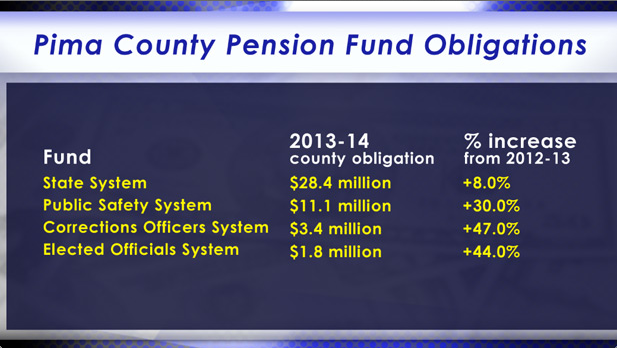 Source: Pima County Administrator's Office. (PHOTO: Robert Jaime, AZPM)
Pima County employee benefit costs are expected to rise about 5.5 percent in the next fiscal year, says a memo from the county administrator.
Nearly all of the $6.7 million increase in benefits for more than 5,00 county employees is driven by a 16.2 percent rise in payments for state-administered employee retirement plans.
The county has reduced the rise in other benefits costs by going to a self-insurance plan for health care. That is keeping the annual increase to 8.4 percent for the coming fiscal year. Last year, health care costs to the county for its employees rose 18 percent.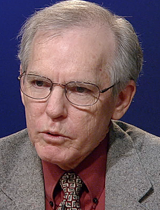 Tom Burke, director of finance for Pima County government. (PHOTO: AZPM)
The memo, written March 8 by County Administrator Chuck Huckelberry to the Board of Supervisors, details the anticipated expenses in a dozen categories, spelling out what he called "the ever increasing employee benefit cost."
County Finance Director Tom Burke said in an Arizona Week interview Friday that the county has no control of retirement fund costs. The state tells counties what the costs will be, and counties are obliged to budget for them, he said. County employees who have retirement benefits are covered under one of the four state retirement funds.
In Pima County for next fiscal year, taxpayer-covered retirement costs for employee pensions will rise 8 percent, Burke said. For corrections officers, the increase will be 47 percent, and for public safety officers 30 percent.
"The fund for the Pima County portion of the state fund for the public safety employees - the sheriff's deputies - currently has an actuarial need of $350 million for the county side of it, and current value of about $200 million," Burke said. "So there's about a $150 million shortfall that needs to be caught up over the next 20 to 30 years.
"So what will happen is the state will have us contribute more each year. In the last 10 years, we've gone from contributing about $2 million a year, to next year we will be contributing $11 million. so that's about a 700 percent increase in the past 10 years ... just for public safety officers."
Those increases are driven by state actuarial projections showing that the funds are significantly short of projected needs to cover pension payments for current and future retirees. Statewide, the four public employee pension funds are $18 billion short of what's needed to cover retirement payments.

Read Pima County employee benefits costs memo here
View at Google Docs | Download File