Homeland Security Secretary Janet Napolitano and other federal officials will be in southern Arizona on Friday to inspect security operations along the U.S.-Mexico border.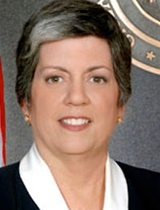 Homeland Security Secretary Janet Napolitano.
The Homeland Security Department says Napolitano, National Drug Control Policy Director Gil Kerlikowske and U.S. Customs and Border Protection Acting Commission Thomas Winkowski plan to visit Douglas and Tucson.
During the visit, the officials will be meeting with state and local law enforcement.
Earlier this week, the Homeland Security Department said it was re-evaluating plans to furlough border agents and cut overtime because of the automatic federal government spending cuts.
Napolitano had previously said the forced budget cuts would mean the equivalent of losing about 5,000 border patrol agents.
The former Arizona governor said in February on stops in the border cities of San Diego and El Paso: "I believe the border is secure. I believe it is a safe border."
Border safety and security are the key points of contention in the debate over proposed comprehensive immigration reform, with some saying they want security and proof of it before passing other reform aspects.
Rep. Ron Barber, D-Ariz.,, has said his constituents in Cochise County tell him they don't feel secure.