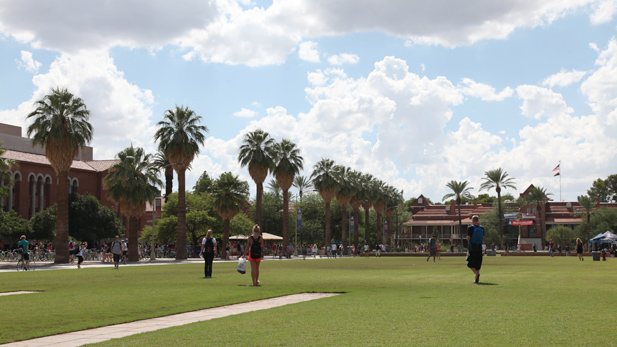 The University of Arizona (PHOTO: Fernanda Echavarri)
The Arizona Board of Regents has approved a 3 percent tuition increase for all students at the University of Arizona.
The board unanimously approved the tuition hike at Thursday's meeting on the UA main campus.
Tuition increases for Arizona State University and Northern Arizona University were also approved and will take effect next academic year.
Resident undergraduate tuition and mandatory fees for the UA main campus will climb to $10,391, up from $10,035 in 2012-13. For non-residents, tuition and fees will total $27,073, up from $26,231.
"It is not an easy decision to raise tuition by any amount," said Rick Myers, ABOR chairman. "We want Arizona's students, families and the public to know that we are doing everything we can to operate as efficiently as possible to hold costs down. Our universities are among the most efficient in the nation, and as a result we are able to hold the line with minimal tuition increases," Myers said.
The board did not have a discussion about tuition for recipients of President Barrack Obama's Deferred Action for Childhood Arrivals, but is expected to talk about it at the next meeting.
"I would direct the staff to immediately begin to look at some of the options and provide back to the regents by the next meeting, under the state and federal law what our options are," Myers said.
Eligibility requirements for deferred action status include coming to the country illegally or living in the country with expired permits before June 15.
Applicants must also have entered the country before they were 16, be between 15 and 31 years old, have lived in the U.S. for the past five years, be currently enrolled or have graduated from high school, served in the armed forces and have no criminal record.
At the June meeting the board will discuss details surrounding state and federal immigration law and how it affects DACA students. This does not mean the board will take a vote or call to action on this issue, Myers said.
Pima Community College's Board of Governors recently voted to accept deferred action documentation as proof of legal status.
Arizona students who are granted the temporary permits can qualify for in-state tuition at PCC.
Community colleges in about a dozen states have already approved in-state tuition for those who receive DACA temporary work permits, according to PCC officials. Maricopa Community Colleges approved the change last year.