(VIDEO: AZPM)
The recently approved version of the U.S. Violence Against Women Act includes changes to the way colleges and universities handle sexual violence on campus.
That part of the law is the Campus Sexual Violence Elimination Act, or SaVE Act, which requires the need for educational outreach programs, accountability in data collecting and availability of resources for victims of sexual violence.
At the University of Arizona, representatives from the Oasis Program Against Sexual Assault and Relationship Violence said they already offer most of what is included in the revised legislation.
Under the SaVE Act, college campuses are required to provide bystander intervention initiatives to prevent sexual violence.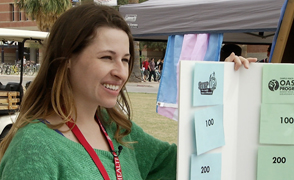 Megan McKendry, violence prevention specialist at UA's Oasis Program
"We have been doing that here already," said Megan McKendry, violence prevention specialist with the Oasis Program.
The Step Up program at UA teaches students, faculty and staff members in how to handle situations in which they witness potential sexual violence, through presentations and role playing activities.
"We were able to fully develop that program after receiving a Department of Education grant," McKendry said.
The Oasis Program also offers free self-defense classes. They are popular among students, McKendry said, but they are not recommended as the only initiative against violence.
"They require a lot from the person who is potentially the victim, and we like to focus our efforts on the people who are perpetrating whose fault it is that this is happening and try to stay away from blaming victims for what happens to them because it is absolutely not their fault," she said.
In 2011, six cases of criminal sex offenses were reported to UA police, data showed. The previous year, one criminal sex offense was reported.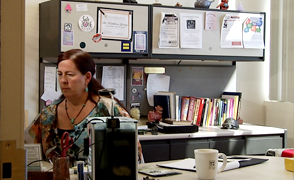 Kathleen Young, Psy.D., staff psychologist at UA's Oasis Program
"In terms of numbers estimated to occur and what we actually hear about, there is a great discrepancy," said Kathleen Young, a psychologist with the Oasis Program.
There are many ways for where and how people can report incidents of stalking, sexual assault or sexual violence, Young said.
As a mental health practitioner Young is not required to report sexual violence incidents that are reported to her confidentially.
The new version of the Violence Against Women Act improves data collection and adds stalking to the annual crime report that universities are required to compile, she said.
One in five women are victims of sexual assault while in college, according to national studies.
On March 7, President Barack Obama signed the reauthorization of the Violence Against Women Act.