(VIDEO: AZPM)
Where is Arizona's state budget for the next fiscal year?
The question is being asked at the state Capitol because 82 days into the legislative session, there has been no official word on the document or even on negotiations over it between Republican legislative leaders and Gov. Jan Brewer.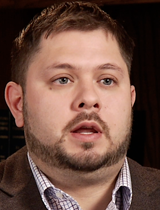 State Rep. Ruben Gallego, D-Phoenix. (PHOTO: AZPM)
Legislative leaders had set the 65-day mark, which was March 19, as the informal deadline to get a budget proposal out for discussion. Even this Thursday, when both chambers held brief floor sessions and voted on several pieces of legislation before adjourning for the week, there was no formal talk of a budget.
"From my perspective, there's nothing going on with budget negotiations right now," Rep. Ruben Gallego, D-Phoenix, told Arizona Week in an interview for broadcast Friday. "And that's fairly disturbing. It's already a couple of days into April. We haven't even heard an inkling that there is any talk of a budget."
Senate Majority Leader John McComish, R-Ahwatukee, admitted the process is behind schedule.
"Budget negotiations this year, I think it's fair to say, they've been slow," McComish told Arizona Week. "And that's no surprise. This is my ninth year in the Legislature, and what I've found is every year has a different rhythm to it."
This year's rhythm is all about Gov. Jan Brewer's proposal to expand Medicaid under the U.S. Affordable Care Act. The proposal, which her budget director called the biggest policy idea in Arizona in 30 years, would bring more than $1 billion in federal money into the state at full implementation in a few years.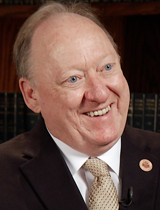 State Rep. Rick Gray, R-Sun City. (PHOTO: AZPM)
Even in its first year, 2013-14, it could mean $100 million less that the state would have to spend, a significant implication for the state budget, said Rep. Rick Gray, R-Sun City, the House minority whip. Because of that, the entire budgeting process is being slowed down, he said.
"Obviously the Medicaid expansion is the biggest hurdle," Gray said.
"As the governor presented it, it's an intricate part (of the budget), because with the hospital assessments, it actually draws down not only enough to cover those assessments, but to actually free up money from our general fund," he said.
The hospital assessment is a fee that hospitals and health-care providers would pay to raise the state's match for the federal Medicaid money. That keeps it from being imposed on taxpayers, Brewer has said.
"$100 million is a big item," McComish said. "We have a $9 billion budget, and $100 million doesn't seem like much, but how much we have to play with and where our variances are - $100 million is a lot."
He said the time and energy legislators are spending on the Medicaid proposal is time that might otherwise be going to budget preparations.
Governor's budget director John Arnold said Medicaid is something Brewer feels strongly about, and thus she will go all out to bring the Legislature around.
"Once the governor makes a decision, she usually goes pretty aggressively to implement those decisions," Arnold said. "We saw that when she decided that the state needed a temporary sales tax. She aggressively pursued that, and ultimately we got that done. And I think she will aggressively pursue Medicaid expansion until it's done."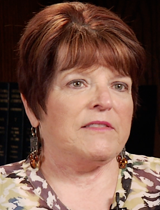 State Sen. Linda Lopez, D-Tucson. (PHOTO: AZPM)
Legislators said the budget negotiations are still at the staff level rather than having the governor and legislators themselves at the table.
At that level, Arnold said, there has been agreement on more funding for K-12 education and a range of other issues.
Legislators across the spectrum agreed that education will get more money. Gallego, the House assistant minority leader, said the House Democrats' budget calls for increases to support the Common Core standards, something many others echoed.
"We want to make sure of course we have funding for the Common Core, the cost-of-living adjustment for schools," said Sen. Linda Lopez, D-Tucson, the chamber's assistant minority leader. "So K-12 education and the universities of course are very important to us."

Read Gov. Brewer's 2013-14 budget proposal here
View at Google Docs | Download File