John Pedicone will remain as superintendent of Tucson Unified School District beyond June 30 if the board has not found a replacement by then.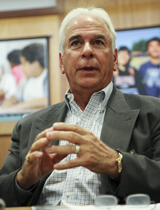 PHOTO: Hannah Gaber
TUSD Superintendent John Pedicone.
When Pedicone resigned last month as superintendent, he said he would leave at the end of the fiscal year. But because it may take more than three months to conduct a national search to select his replacement, he told the district's governing board he would stay as long as necessary.
The board hired a search firm last week to help screen applicants.
While candidates do not have to be from the area, TUSD board president Adelita Grijalva said she is looking for a person who understands the district and the community.
"I think someone who's familiar with Tucson and how unique Tucson Unified is in Tucson," Grijalva said. "We're a very diverse, very large district and so I think that's very important. Also someone who's an educator."
For that reason, she said she also wants the community involved in the review process, as it has been in previous superintendent searches, with community forums.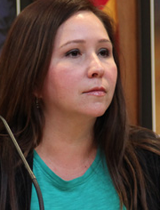 PHOTO: AZPM
Adelita Grijalva, president of TUSD Governing Board.
"Ideally I would like to have a process that looks like that, where we have an opportunity for the board to meet with the candidate for the the cabinet to meet with the candidate, other stakeholders, TEA (Tucson Education Association) and our representation from employee groups," she said.
Board member Mark Stegeman added other qualities he would seek in a the candidate.
"Personally I'd like to see someone who has experience as a superintendent, someone who has experience running a large organization, and for me, ideally some experience in the private sector," Stegeman said.
While Grijalva is looking for an educator, Stegeman said he is more interested in someone with management experience.
"I don't think it's quite as important that the top person be mainly an educator. I think the top person in the organization has to be an outstanding manager," he said.