Nine Arizonans with a coalition seeking comprehensive immigration reform were set to join a rally of tens of thousands in Washington, D.C., Wednesday to urge quick passage of legislation.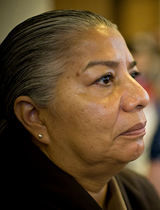 Petra Falcon, executive director of Promise Arizona.
Petra Falcon, executive director of Promise Arizona, led the delegation that includes two elected officials, clergy and immigration activists. They and thousands of others from across the country were gathering outside the Capitol for the afternoon rally.
"There are 11 million people in this country whose lives will be forever changed by the decisions Congress is about to make, and that decision must include a path to citizenship and it must keep our families together," Falcon said in a press release. "It's the right thing to do for our country and our economy."
A bipartisan group of U.S. senators called the "Gang of Eight" is days away from introducing a bill that would bring about reform. Its introduction could come as early as Thursday, group members have said. The group includes Arizona Republican Sens. John McCain and Jeff Flake.
The Gang of Eight's work, calls by President Barack Obama for immigration reform and similar work by a bipartisan group in the U.S. House have stimulated pro-reform organizations, leading to predictions of success after years of failed efforts.
"I've been working on this issue for more than a decade, and it feels unstoppable now," Ana Avendano, director of immigration and community action at the AFL-CIO, told National Public Radio.
Key components of the proposed reform measures will include increased border security, a mechanism for measuring the success of border security efforts, legalization and an eventual path to citizenship for the estimated 11 million people who have immigrated illegally, overhaul of visa programs and a guest-worker program for agriculture and other low-skilled jobs.
Democrats have said a solution for so many undocumented people, especially those who were brought to the country as children and a way to reunite families split by deportations and long visa waiting lists, is a key component of reform.
Republicans have said they want assurance that the border is secure before any of those now in the country illegally are allowed to move toward permanent residency and citizenship. In one scenario outlined in the proposed legislation, that path could take a minimum of 13 years.
Border security is a significant issue in Arizona, widely recognized as the key entry point to the country for those coming illegally, including many brought in by smugglers and for drug trafficking.
Previous efforts at reform fell short because organized labor, supportive of Democrats, wasn't on board and conservative Republicans wanted those here illegally deported.
Those arguments fell away in the wake of the 2012 election, in which more than 7 of 10 Latinos voted for Obama, leading Republicans to reconsider their hardened positions. Labor and business came to terms on a guest-worker proposal within the last two weeks.