High winds on Wednesday serve as a reminder that wildfire season is here. Officials with the Coronado National Forest have been keeping an eye on the winds' drying effects on grasses and timber.
They're also looking over a variety of data to get a sense of what this year's fire season will be like. Some officials are wondering if this year could be a repeat of 2011, when hundreds of thousands of acres of the state went up in flames.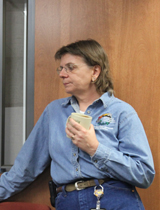 PHOTO: Mark Duggan
Kristy Lund, fire staff officer for the Coronado National Forest.
Kristy Lund, the Coronado's Fire Staff Officer calls the factors that affect this year's wildfire season "a highly variable dynamic."
One constant, however, is the drought.
At a recent briefing on conditions in the Coronado, Lund told the audience that the drought has become a little less severe, but with a caveat:
"...You're talking about extremely severe, stepping down a little bit," said Lund. "Fundamentally, you're in the Desert Southwest. Drought is kind of the norm for us, but it's still very broad and very long-term."
The other factors are bit more tricky. According to Lund, most of the usual early signs of the severity of this year's wildfire season are still inconclusive.
The wind is drying fuels in the forests, but no more than an average year. Lund worries more about invasive "fine fuels" like cheatgrass and buffelgrass more than timber. They can ignite year-round, particularly in the desert.
"In a normal desert, you'd really see creosote and not much underneath that, not much in the way of grass," Lund said. Except on about an every ten year cycle, where we would get enough precip to cause the native grasses to germinate.
Now, with all these other invasives, fundamentally, they'll grow virtually year round with very little precip ... they're the ones that are most available for ignition."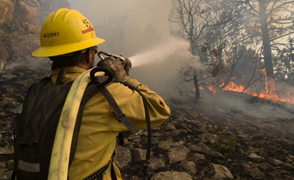 PHOTO: Kari Greer, U.S. Forest Service
On the ground at the Wallow fire in Arizona, May 2011
And when they do ignite, brush and grass have a habit of spreading flames up into brush and timber.
As always, weather provides one of the biggest variables. Following an unusually cold winter, weather patterns have settled into a "neutral" pattern, meaning neither La Nina nor El Nino conditions prevail.
The cold dried fuels out even more. But the weather conditions of the next few months, leading into the summer monsoon, will largely set the stage for the severity of this year's wildfire season.
When considering this year, Lund said she only hopes it won't be a repeat of 2011. That year, the Wallow, Horseshoe 2 and Monument Fires burned more than one million acres of land in Arizona, much of it high elevation forest. Last year, in comparison, there were few large fires. But Lund still takes a somewhat fatalistic view of the wildfire season:
"It will dry out. It will warm up. We will get the wind."
But will we get large wildfires? Right now, at the start of a new fire season, it's too early to tell.
More resources:
Inciweb wildfire incident management site
Southwest Area Coordination Center
National Interagency Fire Center
Arizona Interagency Dispatch Center
Arizona State Forestry Division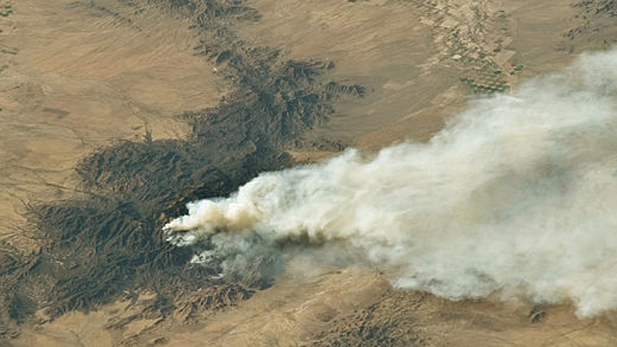 PHOTO: NASA Earth Observatory, ISS Expedition 27 crew
An astronaut on the International Space Station took this image of the Horseshoe 2 fire May 15, 2011. It shows about 22,110 acres of pine and oak forest in the Chiricahua Mountains consumed by fire. The smoke plume extends to the east by more than 40 miles