Sunnyside Unified School District cut another $400,000 from its budget this week, bringing it closer to its goal of $4 million in cuts to balance next year's budget.
The $4 million goal is not a firm number, though, because the state budget and associated education spending have not yet been approved.
"We can find out in May that the state said you need to cut another $2 million, so we could be back here again without any discussion because it's going to be a done deal," said Louie Gonzales, a Sunnyside board member.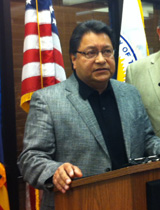 PHOTO: Fernanda Echavarri
Sunnyside School District Superintendent Manuel Isquierdo.
The cuts made Tuesday came by eliminating two truancy officers and five instructional coaches at middle schools. Four of those coaching positions are already vacant, said Superintendent Manuel Isquierdo.
Other cuts included eliminating a cap on the fee students pay to participate in sports and cutting a community liaison position.
The board took a dozen votes on budget-cut proposals, and all that they approved were unanimous.
Isquierdo proposed other budget cuts the board declined to implement. One controversial proposal was eliminating the Ocotillo Learning Center, which provides preschool and speech and hearing education to children 5 and younger.
Listen to the story:
About 50 people associated with Ocotillo showed up to encourage the board to keep it open. They spoke at length during the public speaking portion of the meeting.
"Unless you've had a child who has a speech disorder, you cannot appreciate the difference preschool makes in his ability to understand the world around him," said Tim Glass, whose son attends Ocotillo.
A teacher at Los Ranchitos Elementary School, Caroline Greene, said she sees the impact of early childhood education on kids every year at the beginning of the school year. It is obvious which students have had structured educational play versus those who have had no educational attention, she said.
"I think we should have no cuts to Ocotillo right now, and I'm not going to be supporting cuts. I know it puts us in a very difficult position, but I know we have other cuts that we can make other places," said school board member Daniel Hernandez Jr.
Ocotillo would be hard to bring back if the financial situation improves after it is closed, Gonzalez said. He supported eliminating programs or positions that would be easier to reinstate once the district has more money.
The board decided not to close the school, but is going to look for other ways to fund it to keep it open.
It also declined to eliminate an assistant principal at middle schools with two people in that position, to eliminate the district athletic director and ninth-grade athletics program.