President Barack Obama's proposed 2014 federal budget calls for increased border security measures, including adding 1,600 Border Patrol agents,
That would cost $221 million, according to Obama's budget proposal. It would increase the number of agents by about 8 percent.
The proposed budget for the Department of Homeland Security also calls for adding surveillance towers along the border and for a study of implementing fees for crossing into the United States from Mexico and Canada.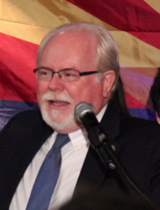 U.S. Rep. Ron Barber, D-Ariz.
Republicans have called for tightened border security as the key to their support for comprehensive immigration reform, including a way to measure whether the border is reaching a satisfactory level of security.
A bipartisan U.S. Senate proposal for reform is expected within the next few days.
A Homeland Security study done at the request of U.S. Rep. Ron Barber, D-Ariz., and released in January showed that the federal government spent $18 billion on border and port security in 2012. That was more than the combined totals for law enforcement spending on drug enforcement, the FBI and gun investigations, the report said.
Barber, whose Congressional District 2 includes a significant stretch of the border, has said he would consider the border secure when his constituents living along it say they feel safe and secure.
The summary to Obama's Homeland Security budget proposal said he wants to work with Congress on a "permanent fix for our broken immigration system."