The first time I tried to record an interview Tom Russell, in late 2011, it was on a bad cell phone connection as he drove around the outskirts of Ft. Worth, TX trying to find his hotel. He was flying out the next morning, on his way to Sweden for a series of concerts. The signal was bad enough that we agreed to wait until he'd checked in to his room.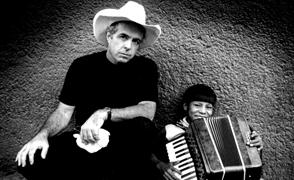 (PHOTO: Tom Russell)
The second time I tried to record an interview Tom Russell, he was safely installed in his hotel room but the connection was worse.
So much for land lines.
We managed to have a nice conversation anyway, ranging in subjects from his music to his influences to his thoughts on history and landscape as songwriting subjects. But the noise on the phone line was so bad that it was impossible to broadcast the interview.
Through the thicket of buzzing and crackling, I heard him touch on a subject rarely spoken of in music. A notion that comes from the music writer Greil Marcus that he called "the old weird America."
To quite Marcus, it's a "playground of God, Satan, tricksters, Puritans, confidence men, Illuminati, braggarts, preachers, anonymous poets of all stripes."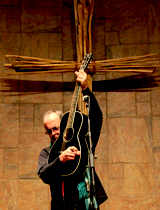 Tom Russell on stage at February, 2013 a show in Sahuarita, AZ (PHOTO: Mark Duggan)
To Tom Russell, that's a pretty rich well to draw from for songwriting. In his nearly 40-year career, he's penned songs about William Faulkner's travels in California, boxer Jack Johnson's struggle to overcome racism, life in the Japanese internment camp Manzanar, and the tragic tale of the Disney child star Bobby Driscoll.
The third time I interviewed Tom Russell, no bad phone lines lay between us. It was February 2013, and he'd just come off of the stage after a nearly hour-long first live set.
He graciously agreed to another interview during a fifteen-minute intermission. While the audience nibbled pastry and sipped decaf not 20 feet away, we talked about Bob Dylan, Pancho Villa and "the old weird America."
Russell sees his lyrical style as part of a continuum in a line that includes Dylan, Dave Van Ronk, and Ramblin' Jack Elliott, as well as writers like Bukowski and Kerouac.
But perhaps his biggest influence, he says, is Ian Tyson; originally part of the 1960s Canadian folk duo Ian & Sylvia.
A student of history, Russell is particularly fascinated with the Desert Southwest, especially the lands of La Frontera. The California native lives in El Paso today, and the region, from its border troubles to its rich cultural history, looms large in his music.
Russell also has several connections to Tucson. He's recorded at the noted Wavelab Studios and used Calexico as his backing band on his 2009 album Blood and Candle Smoke.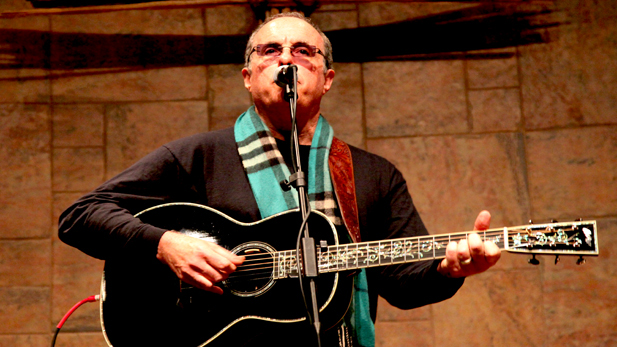 (PHOTO: Mark Duggan)
But Russell's own rich history also figures in to his songwriting. He was born in Los Angeles and got a master's degree in criminology from the University of California. This led to a teaching gig in Nigeria at a time when that country was at war.
He spent time in Norway, Spain and Puerto Rico before landing in Vancouver in the early 1970s, where he first began playing music live.
Later, in Texas, he formed a band with singer Patricia Hardin. They moved to San Francisco, released a few albums, then called it quits in 1979. Russell left the music industry for a bit, but was still writing songs.
One of them, Gallo Del Cielo, a vivid "long-tale"-style song about a champion fighting cock, actually led to his big break.
Working as a cabbie in Queens, he picked up Grateful Dead lyricist Robert Hunter one night. Recognizing his fare, Russell sang him Gallo Del Cielo. Hunter was so impressed that he gave Russell a slot as his regular opening act when he performed his music and poetry in solo settings.
Since then, Russell has released more than 20 albums, several DVDs and a book.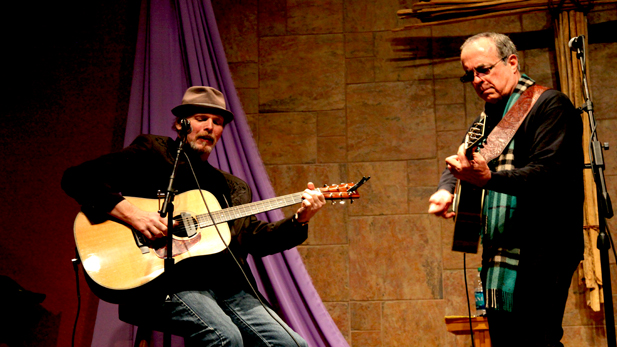 Tom Russell and sideman Thad Beckman (PHOTO: Mark Duggan)