Arizona Senate President Andy Biggs says the state budget has not been delayed and that people expecting it by now are spoiled by what the Legislature did in the last two years.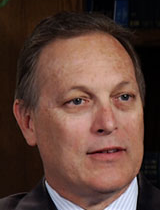 PHOTO: AZPM
Andy Biggs, R-Gilbert, Arizona Senate president.
Negotiations to fund the state for the fiscal year starting in July have been stalled by talks over Gov. Jan Brewer's Medicaid expansion proposal. Biggs, R-Gilbert, opposes expansion, while some members of the Republican majority have expressed support.
An expansion under which the state would take billions in federal health-care funding, would have a significant influence on how the state budget is shaped.
During the past two years, the Legislature passed the budget by May 1. That was in a Legislature in which the GOP had two-thirds majorities in both chambers. It now has smaller but still solid majorities.
He and Brewer are meeting regularly to discuss Medicaid, but Biggs said he won't support the plan. House Speaker Andy Tobin has said GOP lawmakers won't vote for it.
Brewer wants to extend health insurance to 300,000 more poor Arizonans as part of President Barack Obama's heath care law.
The Republican governor has said that while she was opposed to the Affordable Care Act and even joined the lawsuit challenging it, the Supreme Court has made it the law of the land and Arizona can benefit from what it offers.