Arizona Sen. John McCain says he is leaning toward supporting expanded background checks for gun buyers.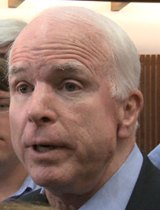 PHOTO: AZPM
U.S. Sen. John McCain, R-Ariz.
The Republican made his comments on a Sunday news talk TV program on CNN, saying he was "very favorably disposed" to the bipartisan compromise measure announced last week. It would require background checks for people buying guns at gun shows and online.
Currently, background checks are required only for transactions handle by licensed gun dealers.
"Eighty percent of the American people want to see a better background check procedure," CNN quoted McCain as saying on its State of the Union program.
The sponsors of a Senate proposal to expand background checks for gun buyers say a vote is likely this week, and it's too close to call.
McCain has a B+ rating from the National Rifle Association.
Arizona's other senator, Republican Jeff Flake, has said he opposes expanding background checks.