The Tucson Unified School District is planning to install panic buttons at every school that would alert officials of an emergency and play a pre-recorded message through the intercom.
"We hope that it will make it easier for administrators to address the emergency and not have to worry about standing over the intercom and make announcements," said Maria Luna, director of risk management at TUSD.
By pressing the button during an emergency, a school administrator would alert safety officials outside the school who will then make 911 calls and coordinate with first responders, she said.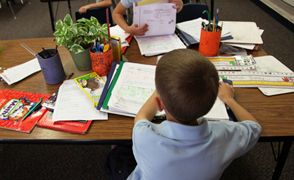 (PHOTO: Fernanda Echavarri)
The message would be recorded either by each school's principal or by a district administrator whose voice is familiar to students, Luna said.
The panic button was among proposed changes presented to the Governing Board at its April 9 meeting, in response to the December shooting at Sandy Hook Elementary School in Connecticut.
School safety officials said they are working with the Arizona Department of Education, Federal Emergency Management Agency and local first responders to improve the emergency plan.
Tucson Unified requires each school to have a monthly fire drill, and officials want to add two lockdown drills every school year.
TUSD safety officials hope to have some of the changes in place for the 2013-2014 school year.
Additional funding for school safety measures could come from the federal government and the state, officials said.