The U.S. Senate's "Gang of Eight" immigration reform proposal includes billions for increased border security and a 10-year wait before people in the country illegally can apply for permanent residency, the Arizona Republic reported Tuesday.
The proposal was scheduled to be unveiled Tuesday morning in Washington, but senators said they were going to delay it at least one day "out of respect for the victims" of Monday's Boston Marathon bombings.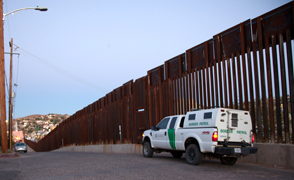 A U.S. Border Patrol on the American side of the border fence in Nogales, Ariz. (PHOTO: Fernanda Echavarri)
The Republic said it obtained a 17-page outline of the proposed legislation, which it said will be known as the Border Security, Economic Opportunity, and Immigration Modernization Act of 2013. Included in the outline:
A border-security goal of establishing "effective control in high-risk border sectors along the Southern border," achieved through "persistent surveillance" and reaching "an effectiveness rate of 90 percent" in a fiscal year in those sectors. The "effectiveness rate is defined as "the number of apprehensions and turn-backs in a specific sector divided by the total number of illegal entries."

Six-year renewable temporary visas for the estimated 11 million people in the country illegally would be issued. Only people who can show they have been in the country since before Dec. 31, 2011 would be eligible, and they must pay a $500 penalty, back taxes and an application fee.

Deported immigrants who can prove they were in the country before Dec. 31, 2011 and who are married to a U.S. citizen or permanent resident or who have a child who is a U.S. Citizen also are eligible for the temporary visas if they return to the country.

Those with temporary visas would have to wait 10 years before applying for permanent status, pay another $1,000 penalty, learn English and U.S. civics and get in line behind others who originally applied legally through the family and green card visa programs.

Six months after the law's passage, the secretary of the Department of Homeland Security would have to submit a $3 billion "Comprehensive Southern Border Security Strategy" and a $1.5 billion "Southern Border Fencing Strategy." Both strategies must be completed before any undocumented immigrants could adjust their status to "registered provisional immigrant."

If 90 percent border security is not reached in five years, a "Southern Border Security Commission" would be created, made up of the four border-state governors and "border security experts" appointed by the president, the Senate majority and minority leaders and the House majority and minority leaders. It would make security recommendations.
The bill would allow assigning up to 3,500 additional agents to the border and deploying the National Guard to help build fencing.
Hearings on the bill are expected to begin as early as Friday before the Senate Judiciary Committee, the Republic reported.