A room in the U.S. Capitol was dedicated Wednesday to the memory of Gabe Zimmerman, an aide to former Congresswoman Gabrielle Giffords.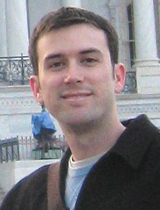 Gabe Zimmerman.
Zimmerman was one of six people killed in the Jan. 8, 2011 Tucson shooting and the only congressional aide to be killed on the job.
Many speakers honored Zimmerman at the ceremony, from politicians who served in Congress with Giffords, to Zimmerman's family and former colleagues.
Speakers fought back tears as they remembered on Zimmerman's and other aides' service to the democratic process.
House Speaker John Boehner said Zimmerman is an example of the unsung workers who keep the government running.
"This tribute to the one who served is a tribute to all who served, and may this room stand as a marker of our capacity to give, to care and to love," Boehner said.
U.S. Rep. Ron Barber, who worked with Zimmerman in Giffords' office, said although Zimmerman's life ended prematurely, there is much about him to celebrate, including his commitment to service, kindness and deep care for the people around him.