The Arizona Senate is poised to advance legislation that would add a primary election to all voter-initiated recall elections.
Under current law, one election is held with the candidate targeted for recall and all other candidates who qualify listed on the ballot.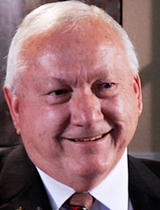 PHOTO: AZPM
Russell Pearce, former Arizona state senator.
The Senate is scheduled to debate House Bill 2282 on Tuesday. The Arizona House passed the measure in a 36-23 vote in March.
Majority Republicans argue the legislation is needed to prevent the ouster of elected officials who are targeted only because of their party affiliation. Democrats say it would protect incumbents.
The bill would take effect retroactively in January 2013. That's designed to make the bill apply to an ongoing effort by opponents of Maricopa County Sheriff Joe Arpaio to force a recall election.
It would also apply to any recall against state House Minority Leader Chad Campbell. Paperwork aiming at a recall of the Democratic Campbell was filed in March with the Secretary of State's Office.
Republicans have been pushing for changes to the Arizona Constitution's provision on recalls since after an election in November 2011 in which former Senate President Russell Pearce became the first Arizona legislator to be recalled. He lost to fellow Republican Jerry Lewis.
Pearce at the time said that if he had run first in a primary, followed by a general election, he would have won. The next year in the regular election cycle, Pearce ran to regain his seat and lost in the Republican primary to Bob Worsley, who went on to win in the general election.