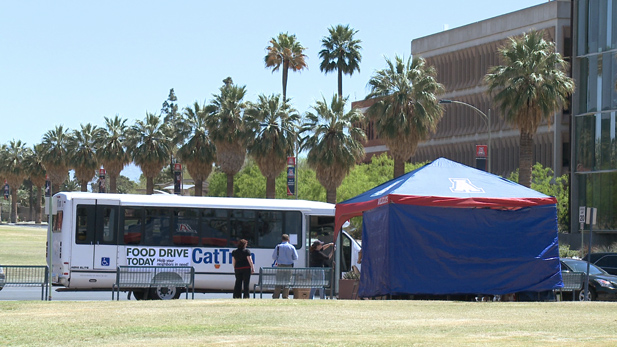 Food donations are loaded into the CatTran shuttle to be delivered to the Community Food Bank of Southern Arizona.
The University of Arizona holds many food drives year round for the Community Food Bank of Southern Arizona. Currently, the food bank has 1.3 million pounds of food less than last year, but demands are up by 6%.
The 5th annual "Stuff the CatTran" event on April 3rd, 2013 attempted to fill a university shuttle with food donations from spring food drives organized by umbrella organization UA4food. University affiliates and community members loaded items like cereal, peanut butter, canned vegetables, and canned meat into the shuttle to be taken to the food bank, sorted, and distributed in food boxes.
Trending with the food bank's dip in donations, "Stuff the CatTran" brought in fewer pounds of food donations this year, but increased cash donations by taking online donations for the first time on their website. Public Relations Manager Jack Parris says the Community Food Bank can stretch a $1 donation into $9 worth of food.
The food bank helps over 230,000 families per month, more than twice the amount of people it was helping 5 years ago. Parris says the Community Food Bank is a much larger operation than most people think. It serves 5 counties in Southern Arizona, and distributed 27 million pounds of food last year.
Watch to find out what the University of Arizona is doing for hunger in Southern Arizona.
Producer: Heather Wodrich | Videographers: Eric Rawdin, Jon Dineyazhe, Heather Wodrich | Editor: Lauren Bays