A new report by a group that helps restore waterways says the Colorado River is the most endangered waterway in the nation.
American Rivers says the river is most threatened by rising demand and long-term drought.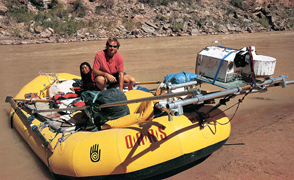 "River Notes" author Wade Davis on the Colorado River (PHOTO: Wade Davis)
A similar gloomy report on the future of the river was released last year from the U.S. Bureau of Reclamation. Both say the river's flow will run short of demand in the next fifty years.
The 1,450-mile long river supplies water to more than 40 million people and a number of western cities, including Tucson and Phoenix.
But the river famously runs dry south of Yuma, in an area known as the Colorado River Delta.
But there, among the caked mud flats, a small rebirth is taking place. Riparian areas have sprung up in some parts of the Delta.
That's cause for optimism for people like Wade Davis. He's the 'Explorer-In-Residence' for National Geographic, and the author of River Notes, a book on the natural history of the Colorado. He calls working to restore the river a noble act.
"When we live through a time when we have the obligation and an opportunity to restore the river, I think we really have a mandate to do it," says Wade.
"And I think we'd find that it would take a remarkably small amount of water to bring the river back to life. And I can't think of a more glorious thing for Americans to attempt to do."
Wade Davis talks more about the natural history of the Colorado River on Arizona Spotlight this Friday