(VIDEO: AZPM )
Tucson photographer Wayne Martin Belger has exhibited nationally and abroad, and he's known for his dreamlike explorations of people and landscapes.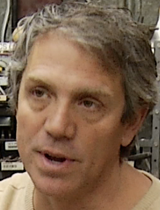 Wayne Martin Belger. (PHOTO: azpm)
Belger perhaps more noted for the meticulously crafted cameras he produces for each project.

Each of his cameras is intended as an integral part of the photographic process, Belger says, and each serves as a way to delve into a specific topic.
"It's all dedicated to a subject I want to learn about," Belger says. "I make my own cameras, and each camera is designed for the subject it shoots."
Belger, an accomplished machinist, manufactures all the individual parts and assembles the cameras using artifacts related to the subject-matter.
His 9/11 camera, for example, includes a piece of a support beam from the World Trade Center and aircraft-grade aluminum from Boeing, and is intended to explore Abrahamic religions.

His training as a photographer is limited, Belger says, and his relationship to the camera is perhaps different from how most photographers view their equipment.
"It's not just a tool," he says. "I come from a long line of tool makers, so when I became a photographer, the camera became an absolute extension of myself."