(VIDEO: AZPM)
Immigration reform has a better chance of passage this year than it did with previous efforts because of the bill's bipartisan sponsorship, NPR's Southwest correspondent said Friday.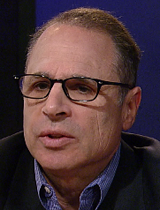 Ted Robbins, NPR Southwest correspondent. (PHOTO: AZPM)
Ted Robbins, Tucson-based correspondent for NPR, said on Arizona Week that the bill shows clear signs of compromise between the four Democrats and four Republicans who are sponsoring it.
"You can look at this bill, or even the summary of it, and you can almost see who wrote what, or which party wrote what," Robbins said. "And that's necessary for the hawks, the immigration hawks, and the people who have been pushing that end of things. That's the only way they're going to get it through."
That was a reference to the bill's rigorous border security apparatus, including not only increased resources but a measurement system meant to demonstrate that 90 percent of those trying to cross are being caught or turned back.
The immigration bill had its first hearing before the Senate Judiciary Committee Friday, with committee members making what were opening stands on the legislation. They also questioned two economists on their analysis of the job market and economic effects of giving legal status to an estimated 11 million people, many of whom are potential workers with low skill levels.
Robbins said one key to success of immigration reform will be employer enforcement using the federal government's E-Verify system for checking the legal status of potential workers. Arizona and a few other states already use the system.
"They're going to make E-Verify ... an electronic version mandatory," he said. "They're also going to make biometrically secure Social Security cards and photo IDs. They're going to make it harder to get a job, in essence."
He said that is especially important when considering that up to half of those in the country illegally did not enter illegally, but rather came in with temporary visas, and they simply overstayed their visa limits.
"What's the goal?" Robbins asked. "Is it border security or stopping illegal immigration? They sound the same, but they're not," because of the overstayed visa problem.
He said that issue becomes even larger knowing that the reform bill does not include any increase for interior enforcement resources, the Immigrations and Customs Enforcement officers who check businesses for the legality of their workforces.
That was one shortcoming of the last major immigration reform, in 1986. A provision for sanctions against employers who hired people illegally was included, but it has not been applied to a great extent, Robbins said.