Listen:
Tucsonans hoping Congress will again consider a measure to expand background checks for gun purchases visited the offices of their two U.S. senators.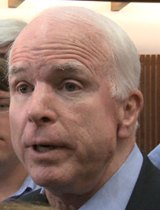 PHOTO: AZPM
U.S. Sen. John McCain, R-Ariz.
The group held signs and gave speeches thanking Sen. John McCain for voting to expand background checks, though the bill failed with 54 votes in favor of it. Senate rules require at least 60 senators to support a measure for passage.
The tone of the message at Sen. Jeff Flake's office was criticism. There, the speeches and signs derided Flake for his "no" vote on the same legislation.
One sign that captured both opinions read, "John McCain way to go, Jeff Flake go away."
The group of 60 at Flake's office was a combination of Moms Demand Action for Gun Sense in America, Mayors Against Illegal Guns and Organizing for America.
One woman said she was so upset with Flake's vote that she wants to see him removed from office. Patricia Maisch, credited with taking the ammunition magazine from Jared Lee Loughner at the Jan. 8, 2011 Tucson shooting, said she wants to start a campaign to recall Flake.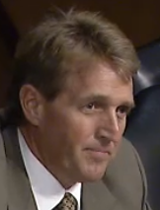 U.S. Sen. Jeff Flake, R-Ariz.
Arizona is one of 18 states that allows citizens to recall a sitting U.S. senator, Maisch said, adding that she was upset by Flake's vote because 90 percent of the country supports expanded background checks, as do most Arizonans.
Recent polls show the support for universal background checks ranges from 71 percent to 86 percent.
"I don't think we can afford to have Sen. Flake represent us and represent the country," Maisch said. "I think he's got to go, he seems to be in the pocket of the NRA, the gun lobby and the gun manufacturers."
Some called for Sen. Flake to listen to them, including Daniel Hernandez, Jr., hailed as a hero of the Tucson shooting. Hernandez has been trying to get a meeting with Flake and the Tucson victims, he said.
"Right now it's premature to start saying we want a recall," he said. "I think what we need to do is we need to try and have that conversation with him."
Maisch, Hernandez and others who praised McCain and criticized Flake said the bill that failed was step one of a long process. They said they hope to eventually get that bill passed and then continue to change the nation's gun laws.