The program to re-introduce endangered California condors to parts of northern Arizona has suffered some recent setbacks, as seven birds have died since late last year. Another bird is missing and presumed dead.
Although necropsy results aren't in yet, three are confirmed as lead poisoning cases.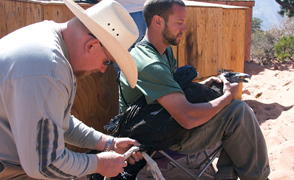 Chris Parish (left) and Eddie Feltes of The Peregrine Fund draw blood from a young California condor that hatched at the Grand Canyon. Currently, every free-flying condor in Arizona is captured and tested for lead poisoning twice a year. (PHOTO: Peregrine Fund)
Biologists trap the birds and analyze their health twice each year.
Chris Parish oversees the Peregrine Fund's Condor Reintroduction project. He raises the birds in captivity, releases them and monitors them in the wild.
He says to have that many condor deaths in such a short time is a "huge setback."
"Ultimately any time there are fatalities within the condor population that we know the cause of death and it's an avoidable cause of death," Parish says. "Of course that makes it a little more frustrating."
Parish isn't surprised by the lead poisoning diagnosis. Condors are natural scavengers and will eat carcasses that have been shot with lead ammunition.
It's not the only source of condor mortality, but it's one that Parish and Arizona wildlife officials can have some control over. They have been working for several years to get hunters to voluntarily use non-lead-based ammunition.
"We've had great success on the Kaibab Plateau," Parish says.
The birds are released at Vermillion Cliffs, near the plateau. They have been seen at the rim of the Grand Canyon, 40 miles south of the cliffs, and they are also expanding their range into southern Utah.
"Of the birds that we know that died of lead poisoning, they spent a considerable amount of time up in southern Utah before coming back to the release site," Parish says.
Now, he's trying to work with wildlife officials there to convince hunters to stop using lead ammo.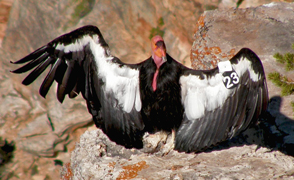 Condor #23 on the South Rim of the Grand Canyon (PHOTO: Christopher Conover)
Some environmental groups say the condor deaths could be prevented with an outright ban on lead-based ammunition.
But Parish and Arizona wildlife officials disagree. They say voluntary efforts to stop using such ammo will ensure more compliance among hunters.
"As we know from Arizona, it's doable, but it takes time," says Parish. "It's hard to have patience when you're losing birds."
One thing Parish will be doing this year is adding to the population of condors. He says up to a dozen birds being raised in captivity will get to fly free this year. The Peregrine Fund and Arizona Game and Fish officials release young condors throughout the year at Vermillion Cliffs. One release is even open to public spectators.
The recent deaths of California condors in Arizona are a sobering reminder to Parish and other biologists that the re-introduction program faces still many challenges.
He notes that half of the diagnosed condor deaths since the program began are from lead poisoning.
He also cites some of the successes of the program, including 149 releases into the wild since it began, and, more significantly, 18 young produced in the wild, and not in captivity.
More resources:
The Peregrine Fund's Condor Reintroduction Project
Arizona Game & Fish's Condor Recovery site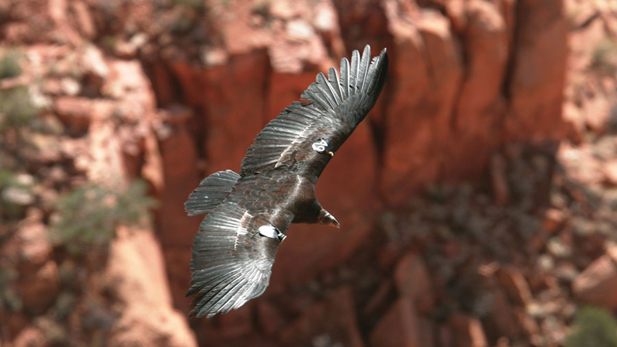 A California condor soars near the Grand Canyon. It is the most endangered bird in North America. It's also the largest, with a wingspan of about nine feet. (PHOTO: Peregrine Fund)