One year has passed since Isabel Celis disappeared from her midtown home, and Tucson police officers are still seeking clues.
The girl was 6 years old when she was reported missing the morning of April 21, 2012. Police have said her father, Sergio Celis, woke up to find her bedroom empty that morning.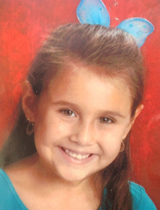 (PHOTO: courtesy of Tucson Police Department)
The days following Isabel's disappearance, officers from the Tucson Police Department flooded the area where she lived, near East Broadway and Craycroft Road, doing hundreds of interviews.
A year later the search and investigation continue, said TPD's Assistant Chief Brett Klein.
"We are reviewing all of the different aspects of the case, anywhere from going through our interviews for the third and fourth time to going through our canvassed information to forensics," Klein said. "We just continue to work through those to see if there is anything that we have missed."
Investigators collected samples of what appeared to be blood on the missing girl's bedroom floor and on other items shortly after her disappearance.
The case was initially treated as a suspicious disappearance. About a month later, it was classified as an abduction.
FBI agents were in Tucson during the early stages of the investigation, and police received thousands of phone calls with possible tips.
"We still get about two or three calls a week," Klein said, some from out of state.
Two Tucson detectives remain assigned to the case, but not full time, Klein said, because there are not enough new leads at this point.
Rebecca and Sergio Celis, the missing girl's parents, have not been ruled out as suspects in her disappearance, he said.
"Until we have found Isabel and brought her home, we can't rule out any possibilities," Klein said. "There isn't anybody or anything that has been taken off the table as a possibility at this point."
A few weeks after the young girl went missing, Child Protective Services asked the girl's father, Sergio, to stay away from his two other children, Isabel's older brothers. He was later allowed back in the home, but details of why he was temporarily separated from his sons were not revealed.
Police ask anyone with information on isabel's disappearance to call 88-CRIME.
Sergio and Rebecca Celis, Isabel's parents, days after the then 6-year-old girl that went missing. (PHOTO: Fernanda Echavarri)