Twenty-six percent of Arizonans polled this month say U.S. Sen. John McCain is doing either good or excellent in his job, the lowest approval rating the Republican has had in more than two decades, a new poll report says.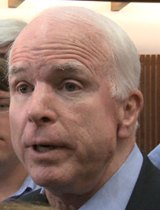 PHOTO: AZPM
U.S. Sen. John McCain, R-Ariz.
The Rocky Mountain Poll, conducted by Behavioral Research Center in Phoenix, reported McCain's performance was rated poor or very poor by 36 percent of Arizonans.
Behavioral Research's Jim Haynes said the poll results reflect a long-term trend for McCainj.
"Some percentage of Democrats rate him poorly simply because he is a Republican," Haynes said. "Some percentage of Republicans rate him poorly because he is not Republican enough. And I guess that is the bottom line for an elected official who chooses to do what he or she thinks is the right thing on an issue as opposed to what the party line on the issue is going to face."
McCain often has been called a maverick by fellow politicians and pundits, a label he has occasionally embraced.
The 76-year-old former Vietnam POW is in his fifth six-year term in the Senate, having won reelection by a wide margin in 2010. His term expires at the beginning of 2017, and he has not indicated if he will run again.