A recent study from the U.S. Geological Survey looked at water supplies in the Verde River of central Arizona. The river is part of the Salt River Project that brings water to population centers like Phoenix.
PHOTO: Finetooth
Verde River upstream of the town of Clarkdale
Hydrologists looked back at the river's flow levels over the past 100 years. Then, they projected what those levels will look like over the next century.
Jim Leenhouts, with the USGS's Arizona Water Science Center, says the study concluded that stream flows have dropped since 1910 and will continue to do so.
"Before people came to these areas, before we started using water resources, we didn't have wells in the ground, we didn't have stream gauges out in the streams," Leenhouts says.
"So it can be hard to find data for what we call the pre-development condition. We do have records of stream flow collected at stream flow gauging stations which the U.S. Geological Survey runs, that go back further in time than you might think. We also have estimates based on precipitation records of how much water there is in the system."
The study also projected stream flows in the Verde River out to the year 2110. Three different hypothetical scenarios of the future found that stream flow reductions will continue, and maybe get worse.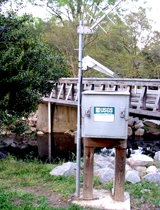 PHOTO: USGS
A typical USGS stream gauge station in North Carolina
"We didn't attempt to make any prediction of what people are going to do. And the result is that, regardless of whether you increase, leave constant, or slightly decrease the amount of withdrawals, you continue to get decreases in flow in the stream."
Leenhouts says the study looked at changes to the stream independent of precipitation and climate.
"So drought doesn't take a play a role in these forward scenarios," he says. "These are just focusing in on what are the effects of withdrawal. So, just that human effect."
The USGS study has led some to ask if the Verde River could eventually dry up part of the year. But according to Leenhouts, that question isn't part of the analysis.
"The results that we have looked at relative changes imparted because people have withdrawn water from the aquifer," he says.
"But we did not look at absolute flow, so we couldn't say that flow will go to zero at some point in time."
Leenhouts continues. "And, in reality that would be very hard to predict because of things like precipitation changes. We get wet periods, we get dry periods."
More resources:
USGS Watershed Monitor
USGS/Arizona Water Science Center's Real-time stream flow data
Read the USGS Verde River flow model study: View at Google Docs | Download File