(VIDEO: AZPM)
Arizonans should provide more funding and less stigmatization of career technical education as a way of helping rebuild the state's economy, advocates say.
The education programs, known as CTE and carried out in much of the state through formation of Joint Technical Education Districts, or JTEDs, have the potential to provide the skilled workforce demanded in the 21st century economy, say analysts, educators and business advocates.
Many advocates gathered this week in Phoenix for a forum sponsored by the Morrison Institute for Public Policy at Arizona State University, at which they heard a Morrison research report on the effectiveness of CTE. Participants in the forum spoke afterward with Arizona Week for Friday's broadcast.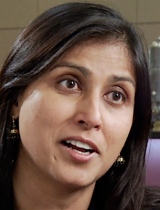 Sapna Gupta, senior policy analyst, Morrison Institute. (PHOTO: AZPM)
The programs are under-funded and continue to be stigmatized as the old vocational education system that tracked low-income and many minority students away from four-year colleges, advocates said. They no longer function that way, many said.
"Can we afford not to invest in a system that our preliminary research indicates has results, can engage students, can lead to good outcomes?" asked Sapna Gupta, Morrison senior policy analyst who led the research.
Her findings included decreased dropout rates in two large public school districts, Tucson Unified and Mesa Public Schools, and decreased absenteeism in the Mesa district.
The report also showed that CTE and JTED programs provide training for several of the top job growth occupations in the state, including construction, health care technical support and food preparation and service.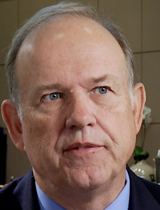 Richard Condit, chief administrative officer, Sundt Corp. (PHOTO: AZPM)
"By 2020, employment in these 'middle skill' occupations - occupations that required either an associate's degree or a postsecondary vocational credential - is projected to increase by nearly 20 percent," Morrison's "On the Rise" report said. "This is roughly the same percentage rise as 'high skill' occupations and well above the 11.7 percent increase in 'low skill' occupations."
Business engagement with education and more specifically with career technical education programs is necessary for economic enhancement and job growth, said Richard Condit, a Morrison forum speaker and chief administrative officer of Sundt Corp., a large construction business.
"I think there's a basic and fundamental misalignment between how we run schools and how the workplace runs," Condit said. "And we should not have that gap exist for kids. They should be able to transition that and not just get into shock therapy."
Read The Morrison Institute's research report here: On the Rise