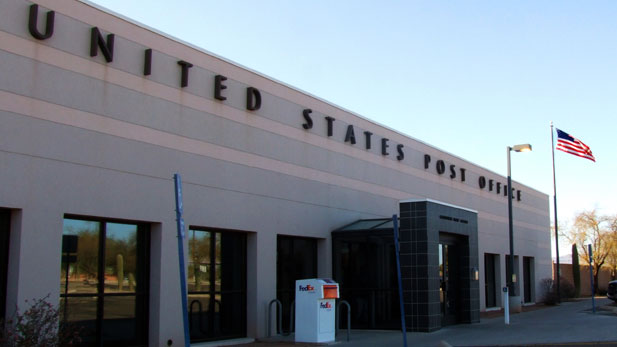 3/20/12
Listen:
The Democrats in Arizona's congressional delegation are pushing for an explanation of why the Cherrybell mail processing center in Tucson is still slated for closure.
All five Democratic members of the U.S. House delegation from Arizona asked the postmaster general earlier this month for a meeting to discuss the issue. U.S. Rep. Ron Barber said in an interview the representatives are not getting answers.
"We had one meeting at the local level with a postal official who said, 'Oh, it's just too complicated for you to understand,' and that's just not a satisfactory answer," Barber said.
Questions detailed in the letter include: - Why is the closure now scheduled to happen sooner than originally announced? - What could change if Congress acted on a bill to reform the Postal Service? - What will happen to the employees after the facility closes? - How will Southern Arizona businesses that rely on bulk mailing discounts be affected by the closure?
"Those questions still remain," Barber said. "My concern with the Postal Service from the beginning is that they have been less than transparent, less than forthcoming in not only talking to the public about their proposals and telling us how they made their decisions."
"We don't have an explanation of what they did on our specific case to look at local conditions and local circumstances," Barber said.
The office of the inspector general of the Postal Service published a report last month about the lessons it learned as it made closure decisions.
One finding was that the Postal Service could improve communication about its plans. The report said the agency released conflicting information and made frequent revisions to the financial benefit of the proposed closures, which made people doubt the figures.
The report recommended the agency use consistent and accurate information in future efforts.
Barber is sponsoring a bill to reform the Postal Service's finances. It will help the agency find new sources of revenue in the age of email and tackle a deficit-causing issue unique to the Postal Service: It is required to "pre-fund" benefits, or to pay for retirement benefits for employees while they are working, instead of at retirement.
"If that were taken care of that would be almost 50 percent of the deficit the Post Office is currently running," Barber said.
The Cherrybell postal processing center is scheduled to close later this year.