Arizona residents living in small towns and rural areas often must go without help in recovering from drug and alcohol addiction.
Established in 1969, The Verhelst Recovery House in Bisbee offers help to men from Cochise, Santa Cruz and Greenlee counties who are battling substance abuse issues.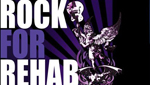 In 2009, Verhelst House held its first public fund raising event, an outdoor music festival called "Rock for Rehab". Executive Director Andy Enriquez says the event kept the facility open, and now the festival is an annual event.
On Saturday, more than a dozen entertainers from across Arizona will donate their time and talent on behalf of Verhelst House for the 4th annual Rock for Rehab event.
Enriquez says he sets at least one attainable fund raising goal for the event.
"We really need a new truck for the work that we do, so this year we'd like to see that happen, along with seeing lots of folks come to Bisbee for some music and fun that is all in the name of a good cause."
Listen: