The old vocational education system in high school is gone, but the myths about it linger, and that could have negative effects in Arizona's economy, says an advocate for improved workplace training.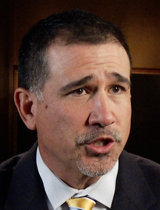 PHOTO: AZPM
Paul Luna
Paul Luna, president and CEO of the Helios Education Foundation, which supports students and educational programs in Arizona and Florida, said in an AZ Illustrated Metro interview that the old system tracked students by pushing some to college and others to vocational classes.
The remnants of that linger, despite the fact that what is now known as career technical education has a key place in the 21st century economy and can be part of higher education, Luna said.
"I think it's fair to say that historically, career and technical education, or basically back then called vocational education, did appear to be a two-track system," Luna said. "If you were on the vocational education track, you were one of those kids who was not going to be going to college.
"I think that's really the myth that we're trying to change in this work."
He said career technical education, known with in educational and business circles as CTE, has structure and rigor to it in line with what the business world and the overall economy need. Business needs to engage even more to support the program, Luna said.
"I think the business voice is critically important, because at the end of the day, what we're trying to do when we're talking about just education in general, we're trying to prepare students so that they have career success, that they have life-long opportunities," he said.
"From a business perspective, we want to create a state of Arizona where the economic future of our state is driven by the type of workforce that we need to have."