The Juniper Fire, first reported Sunday afternoon, burned 161 acres of grass and low brush in the Coronado National Forest about 15 miles west of Nogales before it was controlled Monday.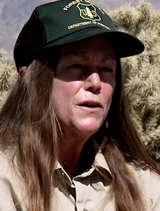 PHOTO: AZPM
Heidi Schewel, public affairs officer for the Coronado National Forest.
Although the area is sparsely populated, Heidi Schewel with the Coronado National Forest said it was easy to get crews to the fire.
"Currently we're in the mop-up stage, which means they are cooling off hot spots around the perimeter. So, they made good progress. Things are looking good," says Schewel. "We're looking at this as a success story. We were able to get what we needed where we needed it quickly to fight the fire safely. It's been suppressed."
A helicopter provided additional support.
Schewel says there was one minor injury reported from the fire, but no structures burned. Investigators are looking into the cause of the fire. It's the first significant incident of the 2013 wildfire season.
"This is an indicator to people how dry things are out there," Shewel says. "We haven't even really gotten into the summer heat yet, and were already seeing flammable conditions."
Schewel says crews will continue to monitor what's left of the Juniper Fire, especially as high winds are forecast Tuesday and Wednesday. Above-average temperatures and low humidity will also increase wildfire risk.