Pima County's primary property tax rate could rise 7 percent in the next fiscal year under County Administrator Chuck Huckelberry's budget proposal, the county said in a press release Tuesday.
The tax rate would support a proposed budget of $1.26 billion, which would be 2.6 percent higher than the current budget, the release said. The rate would go from $3.41 to $3.65 on every $100 of assessed property value.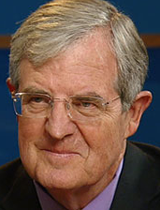 Pima County Administrator Chuck Huckelberry. (PHOTO: AZPM)
"To afford key priorities, the county administrator is proposing to increase the primary property tax rate by 24 cents," the press release said. " ... The proposed rate would essentially keep the amount of primary property taxes for next year the same as that collected this year."
That means overall revenues collected by the county would total about the same as for this fiscal year. Individual property tax bills would vary depending on assessed property valuations, which generally are lower, and properties' location in the county within various taxing districts.
" ... the market value of existing property in the county is anticipated to decrease 8 percent next fiscal year," the press release said. That is despite rising real estate values, because the county's property assessment values lag the market by up to two years.
The press release said Huckelberry's priorities for next fiscal year's budget include:
Spending $5 million "to fix and maintain" 100 miles of county roads.

Adding $4 million to the Sheriff's Department and the County Attorney's Office to replace reduced state and federal funding.

Covering $4 million in general fund losses because of reduced property values.

Giving county employees 1 percent pay raises at the beginning of the fiscal year July 1 and another 2 percent increase at the middle of the fiscal year, next January.
A $44 million surplus is projected for the current fiscal year, and Huckelberry is suggesting half of it go into a rainy-day fund.
The balance would be spent on $15 million in increased subsidies to the county health care facility, run by the University of Arizona Medical Center, $3.4 million for employee pay inflation adjustments and $2.2 million to supplement spending in the county's solid waste, stadium district and development services departments.
Huckelberry said in his budget memo to the Board of Supervisors that a public hearing and preliminary budget adoption are scheduled for May 21, with final adoption June 18.
The proposed budget is 14.6 percent, or $216 million, lower than the county's budget in 2007-08, just before the recession, county officials said in the release. They pointed out that since then, the county workforce has shrunk by 12.8 percent.

Read the county administrator's budget memo here
View at Google Docs | Download File